Design award for Engineering Professor
06/30/2006 10:28:14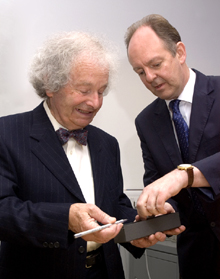 Professor French receives his design award from Professor Chris McMahon
Emeritus Professor Michael French received the honour from The Design Society in recognition of his contribution to engineering design.

He was director of Lancaster's Engineering Design Centre before his retirement in 1992.
Professor Chris McMahon from The Design Society said: "Professor French has made a highly original and significant contribution to the promotion of engineering design and to engineering design education."
Professor French said : "I'd like to say how touched I am by this award. It comes as a complete surprise and I shall treasure it."
Professor Roger Kemp, the head of engineering, said: "When people buy something they think about the colour but good design is about more than that – it's about what works."
The Engineering Department is highly rated for teaching and research and it is amongst the top departments in the country for graduate employment success.