Charity Challenge Raises £5,000
06/08/2007 10:29:12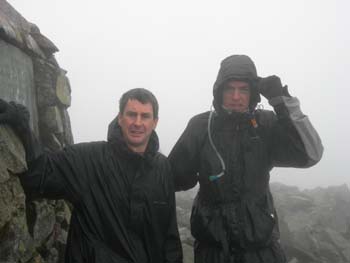 John Statter and Ian Mercer at the top of Scafell Pike
Two members of staff have braved blizzards and heavy rain to climb the three highest mountains in Britain.
Ian Mercer and John Statter also cycled the 460 miles between Ben Nevis in Scotland (1344 metres), Scafell Pike in the Lake District (977m) and Snowdon in Wales (1085m), which took a total of three and a half days.The extreme challenge raised around £5,000 for the Coronary Care Appeal at the Royal Lancaster Infirmary.
Ian said: "We did it in three and half days instead of three due to conditions beyond our control, like the weather, traffic, and a puncture, but it's still a fantastic achievement and one that we are very proud of."
The two men, who both work in the Physics Department, got up at 3.15am on May 22nd to climb Snowdon, which they did in just over an hour and a half.

Ian said: "We were up there by 5.30am and it was gorgeous at the top. We were down by 7.10am and then it was on the bikes to cycle to Scafell but I got a puncture near Warrington and that slowed us down, along with all the traffic."
Weather conditions were far from ideal, with poor visibility on Scafell Pike and a snow blizzard on the top of Ben Nevis.

"We set off at 11am to climb Scafell but the cloud came down, it was pouring with rain and you could only see 10 yards in front. We took a wrong turn on the way down and had to walk an extra 6 miles back so it we were 7 hours on that mountain.

"We got on our bikes by 6.30pm to cycle to Scotland but when we got up Ben Nevis, there was a snow blizzard!"
Despite the poor weather, Ian said the challenge had proved even more fulfilling.
"When we came down, I was getting stronger and stronger and I could have carried on. It showed that all our training had paid off and it was really satisfying."
www.lancs.ac.uk/staff/merceri/pages/home.html