Conference attracts top business leaders
09/06/2004 11:44:26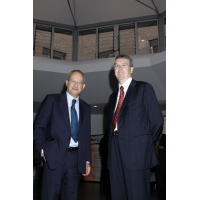 Business leaders from across the UK visited Lancaster University for the 2004 Corporate Venturing Conference on September 10.
The one-day event, hosted by the Institute for Entrepreneurship and Enterprise Development at Lancaster University Management School, included a keynote address by Lord Sainsbury, Parliamentary Under Secretary of State for Science and Innovation.
The conference explored how networking between firms can be created, maintained and managed, introducing the practices of successful firms. It also provided a platform for networking between larger firms interested in corporate venturing and small firms who have created new innovative technologies.
The Vice-Chancellor Professor Paul Wellings discussed university innovation and commercialisation, and other speakers included Professor Damien McDonnell, Chief Executive of the Defence Diversification Agency, and Vivienne Upcott-Gill, Head of Business Finance at the Northwest Development Agency.
After speaker sessions in the morning, the afternoon was split into workshops addressing 'spin-in', 'spin-out' and technology commercialisation attended by representatives from companies such as BT, Lloyds TSB, Philips International and Rolls-Royce.
For more information see: http://www.lums.lancs.ac.uk/events/entrep/3075/