Eco-Residences Win Lancashire Green Award
12/04/2009 10:39:38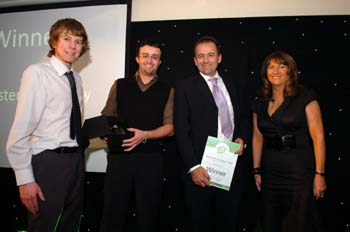 Margaret Hilton of Johnston Press presented the award to Darren Axe, Mark Taylor and Jonathan Mills of Lancaster University
Lancaster University's environmentally friendly student accommodation has won yet another award. The Eco-Residences at County and Grizedale Colleges were awarded a prize in the "Lancashire Green Awards 2009" organised by the Lancashire Evening Post.
Finalists from across the county gathered at a ceremony at the Barton Grange Hotel in Preston for the award ceremony which covered 10 categories. Sponsored by BAE Systems, the awards recognise individuals, community groups and businesses which have made significant contributions toward tackling climate change.
The Eco-Residences won the "Green Builder and Designer Award" after the judges said: "Lancaster University went beyond just the build and made sure students were involved and encouraged to continue to use the building in an environmental way".
Students can monitor their utility consumption online in a termly carbon competition which has seen carbon emissions per person per day fall from 3.54kg in 2008 to 3.14kg in 2009.
The University's Environment and Sustainability Manager Jonathan Mills said: "It's fantastic that the Eco-residences have received a 'Lancashire Green Award'. Environmental considerations have been key to this project and this award really recognizes the low environmental impact of these student residences, both in their construction and occupation."
The Eco-residences at Grizedale and County were designed and constructed by Lancaster University and property providers UPP to achieve lower CO2 emission rates than required by Building Regulations.
The design incorporates roof mounted solar thermal panels to preheat the hot water, lighting controlled by Passive Infra Red (PIR) units, enhanced air tightness and insulation levels as well as sustainably sourced timber.
This is the latest in a series of accolades for the pioneering Eco-Residence design which has already won:
A Green Gown award from the Environmental Association for Universities and colleges
First place in the Environmental Design category at the Chartered Institution of Building Service Engineers (CIBSE) NW Region Annual Awards.
A UK BREEAM Award in the Multi-Residential category. BREEAM sets the standards for best practice in sustainable design.
A BREEAM Excellent rating for its high quality example of good environmental design.
A Secured by Design award from the Association of Chief Police Officers for crime prevention features including overlooked pathways.