Nuffield Theatre presentations over the Summer
07/23/2004 09:46:31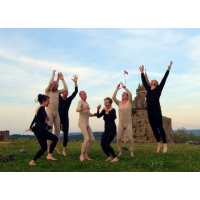 DISPELLING THE MYTH that theatres "go dark" over the summer, over 50 artists from 6 theatre and dance companies are in residence in the Nuffield Theatre this summer, enabled by support from Arts Council England.
The artists, who come from all over Europe, will be creating new work which will be showcased in the Nuffield over the next year. Some of the companies are making new work which will tour nationally and internationally, others are working with the local community.
Currently in the Nuffield, international group Attic People are preparing a piece to go to the Edinburgh Festival, while choreographer Niki McCretton and filmmaker Kathy Hinde are working in Morecambe for three weeks on a performance project for grandparents and their grandchildren.
They will also visit Morecambe repeatedly over the next year, showing a final piece of work featuring Morecambe residents in May 2005.
For more information contact Alice Booth, Nuffield Projects and Artist Support Officer at:
alice@nuffieldtheatre.com