Regarding War Exhibition Launched
10/22/2008 11:42:34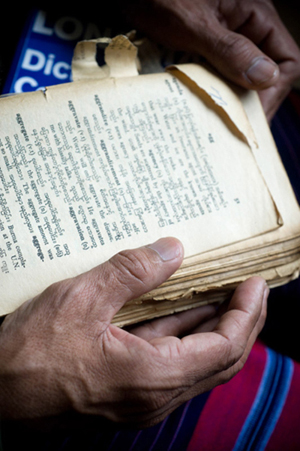 Nay Htoo by Richard Hanson
Lancaster University has launched a new online exhibition exploring war from the perspective of people in the North West.
Regarding War: Image/Text is a research project directed by members of the Centre for Transcultural Writing and Research within the Faculty of Arts and Social Sciences.
The web gallery brings together academics, photographers and writers to explore the experience of war in the UK - how it affects the daily lives of UK citizens and impacts upon their relationships and cultural life.
The team behind the project plan to use the gallery to attract funding for the future phases of this interdisciplinary arts project.
Photographer Richard Hanson who has reported from over 30 countries, from war zones like Sierra Leone, Liberia, Rwanda, and Sudan was commissioned to provide a series of images which shed light on ways in which contemporary armed conflicts touch individuals and communities.
Meanwhile Jordanian/British writer Fadia Faqir, has responded to Richard's images using a mixture of poetry and prose. Fadia's three novels - Nisanit, Pillars of Salt and My Name is Salma - have been translated into many languages and read throughout the world.
Some of the people featured in the online exhibition include: a refugee from the Democratic Republic of the Congo, a Christian peacemaker who works in Palestine and a 36-year-old Iranian Kurd who was held as a prisoner for 24 years by Saddam's troops in a prison camp in northern Iran.
Writing in her blog of Hanson's photograph of the Iranian Kurd, Fadia Faqir says, "I imagined a misrepresented and misunderstood Jangez Kan, an illiterate immigrant, not only in the literal sense, but in the metaphorical sense. How visible are you without being versed in the art of representation and media? Will you be heard if you were illiterate? What if you spoke in Kurdish, your own native language? What if the gestures and nuances of what you said were alien? Would you register on the western scale if you were dark, foreign and incomprehensible?"
The exhibition was commissioned and mounted by Dr Graham Mort, Dr Lee Horsley, Dr Lindsey Moore and Dr Kate Horsley (all from the Department of English & Creative Writing) and by Professor Emma Rose (LICA).
To explore the images and texts for Regarding War go to www.transculturalwriting.com/regarding_war/about.html