New product to prevent illegal file sharing in the office
09/16/2008 12:02:58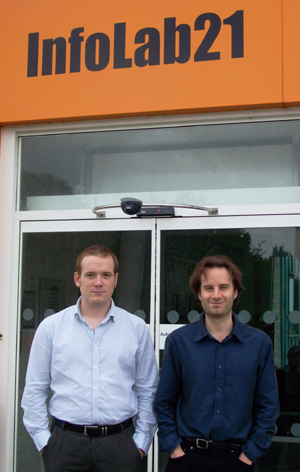 Danny Hughes and James Walkerdine
A Lancaster University spin out company based in InfoLab21 has developed a tool to help businesses clamp down on illegal file sharing.
Businesses can face serious consequences from illegal file sharing which takes place on their network whether the files contain confidential client data or copyrighted material such as music downloads. But many companies appear to be powerless to stop it.
For example, as part of a new study, Isis Forensics observed that more than a third of FTSE 100 companies and more than half of Fortune 100 companies were sharing copyrighted material such as music, films and software using Peer-to-Peer (P2P) file sharing software.
By building on P2P file sharing monitoring techniques developed at InfoLab21, Isis Forensics can non-invasively monitor the file sharing activities of organisations based anywhere in the world and alert them should compromising behaviour be detected.
James Walkerdine of Isis Forensics said: "The risks of illegal file sharing are huge. There have been examples of file sharing software bypassing a company's network security. This has lead to virus infiltration making company computers open to attack.
"There have also been documented cases of employees accidentally sharing sensitive information - this is particularly worrying for an organisation which is responsible for financial or personal information relating to clients.
"Isis Forensics can monitor file sharing activity to ensure it is safe without interfering with day-to-day business. Ultimately we can help companies to stop illegal file sharing before it becomes a problem and they are faced with the consequences."
Isis Forensics was created by Danny Hughes and James Walkerdine of Lancaster University's Computing Department.
Their company is already working with a range of large international organisations and has provided services to public institutions both in the UK and abroad.
The company has benefited from InfoLab21 advice, contacts and events. They are developing a strong relationship with the Knowledge Business Centre lending their support to new KBC ventures.
Danny Hughes of Isis Forensics said: "Working with InfoLab21 has enabled us to exploit the cutting edge research being performed at Lancaster University and allowed us to draw upon the well established business networks that the KBC has."
Steve Riches, Director of InfoLab21's Knowledge Business Centre, said: "We are happy to advise and support another InfoLab21 spin-out company with the help of our researchers at InfoLab21."
● Isis Forensics
Isis Forensics provides professional solutions that are designed to minimise the legal, security and financial risks that file sharing poses to business networks - primarily through their unique P2P Observer System, a cutting-edge tracing system that can externally monitor business networks without interference.
● InfoLab21 is Lancaster University's world-class research, development and business centre in Information and Communication Technologies (ICT) which provides a well equipped, high-tech environment that is shared by researchers, technology based businesses and technology transfer staff.