University Volunteers Help to Beat Burglars
11/13/2003 14:36:10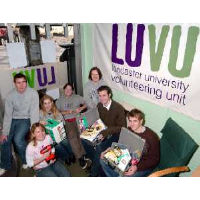 A joint initiative between Lancaster University Volunteering Unit and Lancashire Police, which aims to help combat 'distraction burglary', was re-launched last week.
The project was set-up last year in a partnership between the Home Office, Lancashire Police Crime Prevention Unit and the Lancaster University Volunteering
Unit (LUVU).
'Distraction burglary' or 'bogus calling' is a very serious problem in today's society. Preying mainly on the elderly, especially those that live alone, the caller will talk his or her way into the house on the pretence of being a service official , to get some water for a broken down car even children who have kick their ball in the back yard.
The number of excuses use is endless but the end result the same while the home owner is distracted either the caller or a callers friend will steal anything they can without the home owner realising.
Many of the victims keep large sums of money in the house as they don't trust banks and will not realise its missing for days or even weeks. Many of the homeowners don't report the crime because they are embarrassed that believed the caller and blame themselves. Some don't want the family to find out because they worry that they will be put in a home.
That needn't be the case. The distraction burglary project set-up last year aims to help reduce the number of homeowners who are easy targets for this crime The project had a successful first year helping many elderly homeowners by visiting them in their home and delivering a simple but effective system to reduce the risk of being a victim of bogus callers.
The team gives the home owner crime prevention advice and if needed fits security devices such as, spy holes, door bars and a motion activated memo minder which plays a recording made by a family member or familiar voice telling them to bar the door and ask for ID each time they approach the door.
More importantly the volunteers are a listening ear and sometime just talk to the homeowner about their experience and reassure the homeowner they are not alone and should not be embarrassed by their experience.
This year the number of volunteers available for visits has tripled allowing more people to benefit from the service.
If you or someone you know would like a visit call the Crime Prevention Officer at Lancaster Police Station – Jan Brown on 01524 596696.