Honorary Fellowships
05/02/2007 21:30:42
For the second year, Lancaster University has awarded Honorary Fellowships to recipients who have given distinguished service to the institution.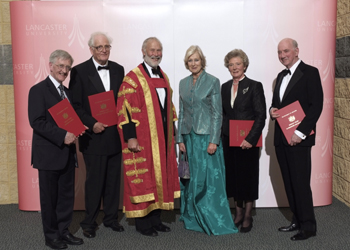 L- R Professor Eric Evans; Professor Terry Mansfield FRS, Chancellor Sir Christian Bonington CBE, DL, HRH Princess Alexandra, Claire Hensman and Sir Christopher Audland KCMG, DL
Sir Christopher Audland KCMG, DL; Professor Eric Evans; Claire Hensman and Professor Terry Mansfield FRS were presented with their Fellowships by the Chancellor Sir Christian Bonington CBE, DL, at a special dinner held in the Lancaster Leadership Centre on Monday 16 April 2007.
Lancaster's Founding Chancellor, HRH Princess Alexandra was also in attendance, with the Pro-Chancellor Bryan Gray BA, MBE, DL, friends and family of the recipients, friends of the University, and previous Fellows.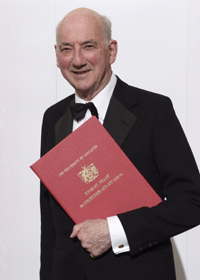 Sir Christopher Audland KCMG, DL
Sir Christopher Audland joined University Council in 1988 after a distinguished diplomatic career as Deputy Secretary-General of the Commission and Director-General of Energy. He was elected Pro-Chancellor in 1990 a post he held until 1997. He lives in Ackenthwaite near Milnethorpe, and has served the county as Deputy-Lieutenant, served the National Trust and the Lake District National Park Authority, and has played a leading role in conservation activity.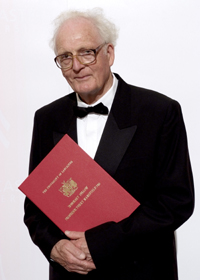 Professor Emeritus Terry Mansfield FRS
Professor Emeritus Terry Mansfield was a founding member of the University appointed in 1965. He set up the solar domes and his research focussed on the cells in plants that regulate gas exchanges which has helped understanding of how plants respond to pollution and environmental and climatic change. He was promoted to a chair in plant physiology in 1977, became head of Biology in 1986, Dean of the Institute of Environmental and Biological Sciences in 1988 and in 1994 Provost of Sciences, leading the natural sciences across the campus. His research led to election as a Fellow of the Institute of Biology in 1985 and the Royal Society in 1987.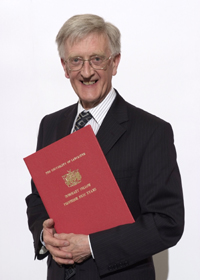 Professor Eric Evans
The historian Professor Emeritus Eric Evans retired recently from the University after 35 years service where he was Professor of Social History and in his final year, Dean of Arts and Humanities. His work included research on rural society in the nineteenth century and national identity. He became Chair of the Social History Society and a member of the Arts and Humanities Research Board. His distinguished awards include a National Teaching Fellowship and a Centenary Fellowship from the Historical Association for services to the subject.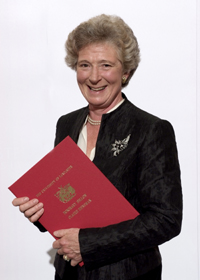 Claire Hensman

Cumbrian Clare Hensman has served the Westmorland NHS Trust and helps develop the work of the Benrigg Trust which provides residential courses in Cumbria for disabled or disadvantaged young people. In 2007

she was selected as High Sherriff for the county. She joined the University Council in 1993 until 2006 and was appointed Deputy Pro-Chancellor in 2001.

During this time she gave long service to the Finance Committee and advised on important issues to do with the university's future. She worked hard to build health services on campus and held an important role in senior appointments.