Ruskin Library celebrates 10th Anniversary
05/23/2008 10:09:10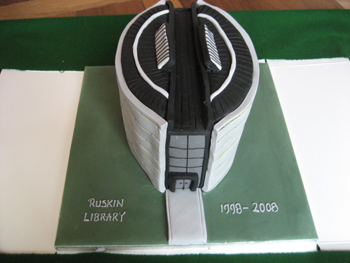 The distictive architecture of the Ruskin Library reproduced in its 10th anniversary cake
The tenth anniversary of the opening of the Ruskin Library was celebrated on 8 May with a reception in the Leadership Centre.

The Chancellor, Sir Christian and Lady Bonington were welcomed by the Dean of the Faculty of Arts and Social Sciences Professor Tony McEnery, along with guests including many of the Trustees of the Ruskin Foundation, which oversees the collection and its use. Also present were some of those involved in the original planning of the Library, such as former Pro Chancellor Sir Christopher Audland and Professor Michael Wheeler, who spearheaded the successful bid to obtain funding for the building from the Heritage Lottery Fund.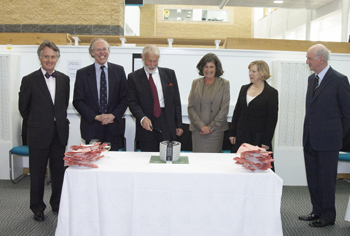 Prof. Michael Wheeler; Prof. Stephen Wildman; Chancellor Sir Christian Bonington; The Hon. Dr. Elizabeth Robins (Chair, Ruskin Foundation); Jacqueline Whiteside (University Librarian); Sir Christopher Audland

"The campus has been changing dramatically recently." Professor McEnery said. "But it was perhaps the construction of Sir Richard MacCormac's new University Library and soon afterwards, the Ruskin Library – in its prominent position as the first building most visitors now see – which began to mark a real change in the appearance of the University.

Its status as an award-winning building, and the unique nature of the Whitehouse Collection of Ruskin material it houses, have given Lancaster something to be rightly proud of."
The Director and Curator of the Ruskin Library, Professor Stephen Wildman (recently awarded a Personal Chair in the History of Art), said: "The aim in establishing the Ruskin Library was not just to provide a uniquely comprehensive collection with a home, but to expand its use in research. Over the decade, as well as our exhibitions and publications, a great deal of cataloguing and documentation has taken place, with results that can be seen on the Library's web pages, attracting the attention and interest of scholars worldwide." Part of the reception included a demonstration of the newly completed digitisation project focusing on Ruskin's Venetian Notebooks, based on material held in the Ruskin Library: this has been funded by the AHRC, in association with the Ruskin Centre and the Dept. of Computing (a team comprising Dr. Roger Garside, Prof. Ray Haslam and Mr. Ian Bliss).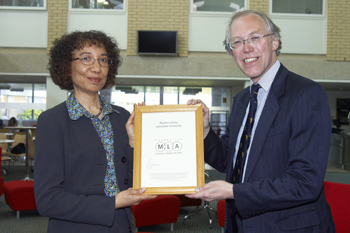 Ms. Emmeline Leary (Museums, Libraries and Archives Council) and Prof. Stephen Wildman

Presentation was also made by Emmeline Leary (Museums, Libraries and Archives Council) of the certificate of Accreditation recently awarded to the Ruskin Library.