From Here To Maturity - Endangered Species
02/26/2004 14:12:09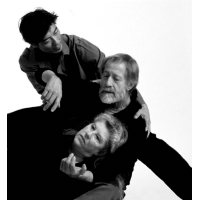 "Youth is wasted on the young" Oscar Wilde
From Here To Maturity presents Endangered Species at The Nuffield Theatre, Lancaster University on Tuesday 4th May at 8pm.
From Here To Maturity brings together a diverse group of some of Britain's best dancers – supposedly well past the dance world's 'sell-by date' – to perform new works by Luca Silvestrini of Protein Dance and Matthew Hawkins.
The company, set up in 2000 by former Ballet Rambert dancer Ann Dickie, includes former principals, soloists and stars of Rambert, the Royal Ballet, Second Stride, Michael Clark, the National Theatre and the West End. They are Jane Dore (73), John Hurley (65), Lucy Burge (54), Jennifer Jackson (50), Tom Yang (49), Matthew Hawkins (45), and Dickie herself (58).
Ann Dickie says, "From Here to Maturity challenges the audience's perceptions of contemporary dance and dancers. The population is ageing and society is changing. At last, people are beginning to recognise what some of us have always known – the value of the creativity and experience of older people!"
Endangered Species, part one features the quirky theatrical touch of Protein Dance with choreography by co-artistic director Luca Silvestrini. The memories and dreams of five people are at the centre of this new work which takes the audience to some very familiar places - in an extraordinary way.
Endangered Species, part two is Raft of Reasons, a new duet by determined dance individualist Matthew Hawkins for himself and former Royal Ballet principal, Jennifer Jackson.
From Here To Maturity was set up in 2000 to provide opportunities for older people in dance and challenge ageism and the prejudice that all professional dancers should be young.
Box Office 0800 028 3042. Tickets: £7.50, £4.50 conc.