Primary Pupils try out Web Design at InfoLab21
02/17/2010 11:13:22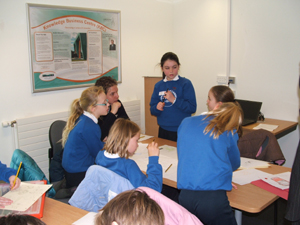 NuBlue Director Mike Ashworth discusses web design with the children from Arkhome C of E Primary School

Lancashire primary school pupils tried their hand at cutting-edge web design at Lancaster University's InfoLab21 this month. Designers from NuBlue Digital Solutions, an award-winning web design and hosting agency based at InfoLab21, showed pupils from Arkholme C of E Primary School how websites are designed and brought to life.

Mike Ashworth, NuBlue Creative Director, challenged the year five and six children to work in groups to design their own one-page website for an eco-friendly electric car. The best design was chosen to be made into a site for the winning team.

Arkholme C of E Teacher Graham Brough said: "The children very much enjoyed the morning, they got a lot from this experience and they have been talking of little else since."

NuBlue's Agency Manager Rob Ellis said: "We really enjoyed having them here and have invited them back to continue our links with them."

Following the workshop, NuBlue presented the pupils with a new sponsored football kit in the school and NuBlue company colours.

NuBlue.co.uk is based in Lancaster University's InfoLab21 – a North West Centre of Excellence for Information and Communication Technology. The award-winning company provides website development, hosting and website marketing services to businesses across the UK and specialises in creating attractive, accessible websites.

For further information, visit www.NuBlue.co.uk or telephone 0845 004 5583.