New technique to track organic chemicals
06/02/2004 15:50:48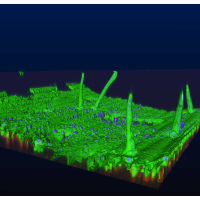 The commercial applications of a new method for tracking chemicals through plants and foodstuffs carried out at Lancaster has been recognised by a £69,271 award from NERC (The Natural Environment Research Council).
Researchers from the Department of Environmental Sciences led by Professor Kevin Jones and Dr Gareth Thomas were helped by the University's Business Enterprise Centre in working up the successful application and in preparing a UK patent application to protect their innovation of a novel method for visualising and tracking organic chemicals through plants and foodstuffs, for application in the agrochemical and food industries.
The Institute of Environmental & Natural Science's Teaching, Innovation, Development & Enterprise Unit (TIDE) also supported the researchers.
The technique, which involves the use of a laser microscope, has been developed by Edward Wild, an NERC PhD student in the Department of Environmental Sciences, together with other colleagues in the department and John Dent from Biological Sciences.
Dr Gareth Thomas said the technique could have many potential uses, from determining where pesticides go in plants, to tracking the movement of chemicals through other materials such as food packaging.
"Up until now the only way you could find out where chemicals had got to in plants involved destroying them. This way it is possible to observe the chemicals without destroying the plant. We want to do further research to work out how this technique can be best used. "
Competition for this new award from NERC was intense and Lancaster's was one of only four successful applications. NERC is keen to encourage commercial exploitation of the research it supports.
Weblinks:
Department of Environmental Sciences: http://www.es.lancs.ac.uk/
Business Enterprise Centre: http://www.bec.lancs.ac.uk/pages/showpage.php?id=55
TIDE Unit: http://www.lec.lancs.ac.uk/business.htm#psi
NERC: http://www.nerc.ac.uk/