Girls in aerospace
01/20/2005 14:15:14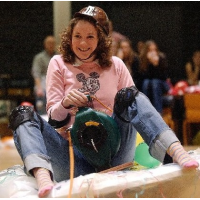 The sky was the limit at Lancaster University this month at a special event for girls interested in a career in aerospace engineering.
More than 80 students from schools in Lancashire and Cumbria converged on Lancaster University to spend the day designing and building hovercrafts and get a glimpse of a career in engineering.
The event - called 'Girls in Aerospace' - was organised by the University of Bradford in association with SETPOINT Lancashire and SETPOINT Cumbria. It was funded by the Northern Aerospace Technology Exploitation Centre (NATEC).
The project was one of a number developed by NATEC and its partner universities to bring science, engineering and technology to life within schools in the North of England.
The year ten and 11 students were welcomed to campus by the Dean of Applied Sciences at Lancaster University, Professor Mary Smyth, who encouraged the students to consider the benefits of studying engineering and technology.
Pauline Lai, chief manufacturing engineer at BAE systems, made a short presentation about aerospace engineering then the students were split into ten teams of eight. Teachers also got involved and were split into two separate teams.
The majority of the day was spent building and testing the hovercraft designs before the final races.
Lancaster University Engineering and Communication Systems departments were present during the lunch hour to demonstrate some of the areas in which their students study. Five Lancaster students acted as ambassadors for the University, helping the girls to create their hovercrafts and encouraging them throughout the day.
Many students opted to have a tour of the Engineering department and were given the opportunity to speak to members of staff.
Professor Mary Smyth said: "This event was a unique opportunity for young female students to get a taster of interesting and challenging careers in engineering. I am delighted that Lancaster University was able to host this event."