Tourist board chair launches marketing toolkit for the region's tourism businesses
05/25/2006 09:36:06
Tourism businesses across the North West can now benefit from improved marketing thanks to the publication of a new marketing toolkit by The Tourism Centre at Lancaster University.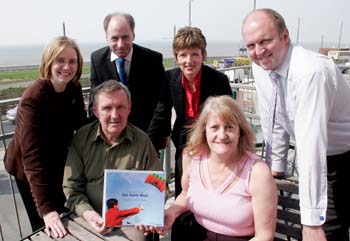 Tara Sewell, Alan Heywood from The Tourism Centre, Lesley Lloyd, Tom Pridmore, Wyre Borough Council. Seated Mick Burbage and Sheila Chick, owners of the Burbage Lodge
The North West Marketing Toolkit was launched at the award winning Burbage Lodge holiday apartments in Bispham by Lesley Lloyd, chair of Lancashire and Blackpool Tourist Board, during a recent tour of Blackpool. It has been financially supported by the Northwest Regional Development Agency (NWDA) and the European Regional Development Fund.
The highly practical Toolkit is a step-by-step guide with accompanying CD Rom that takes businesses from identifying their customers and gaining new ones to pricing and using promotional techniques, ranging from brochure design and advertising to PR and websites.
There are sample sales letters and databases as well as customer feedback forms.
Selling for £41, the North West Marketing Toolkit follows the successful publication 12 months ago of a Blackpool version which was only available to businesses in the resort's ERDF Objective 2 area.
This new North West version means that all the region's accommodation providers can now benefit from guidance including knowing what profit your business really is making and understanding how your business is actually performing.
Burbage Lodge was chosen for the launch as an example of the benefits of good marketing and product development. Joint owners Mick Grewcock and Sheila Chick report that Burbage Lodge is now fully booked until November. They have invested in the apartments continuously and as Mick readily admits:
"Good marketing is often picking someone else's brains and a toolkit like this one is ideal for us. It is very specific to tourism and our needs and is not a bit like some of the more `heavy` marketing books you can buy."
The Tourism Centre is based within the department of geography at Lancaster University. The centre's manager Alan Heywood said of the toolkit's publication:
"The Marketing Toolkit is a great example of how Lancaster University is able to support the regional economy and we are delighted to help the accommodation sector in the North West grow through quality communication with its customers."
Peter Mearns, Director of Marketing at the Northwest Regional Development Agency (NWDA) added:
"Enhancing the way we communicate with customers is vital if we are to continue to grow the visitor economy in the Northwest. A clearly defined approach to marketing that identifies potential visitors and provides them with appealing and effective messages will help to boost the performance of tourism businesses in the region. The NWDA is pleased to have been able to support this toolkit, which will help to spread best practice and encourage tourism businesses to compete with the best."
The North West Marketing Toolkit is available by phoning The Tourism Centre on 01524 594948.