Staff move into new wing of the Lancaster Environment Centre
03/30/2007 16:41:51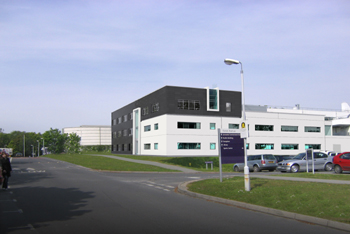 LEC 3
THE DEPARTMENT OF GEOGRAPHY AND LEC'S ENTERPRISE & BUSINESS PARTNERSHIPS TEAM HAVE NOW MOVED INTO LEC III - the third phase of new build for the Lancaster Environment Centre.
The £8.4m building provides new office, laboratory and meeting room space for the Department of Geography and provides offices, meeting and training rooms for LEC's Enterprise & Business Partnerships Team and offices for companies wishing to locate into LEC or co-locate new activities.
External funding for the building came from the North West Development Agency, the European Union via the European Regional Development Fund (ERDF) and from the University's Science Research Infrastructure Fund allocation (SRIF2).
In addition to office space for staff and researchers, the new Geography Department building contains dedicated, cutting-edge laboratory facilities, including the internationally-renowned Centre for Environmental Magnetism and Palaeomagnetism, and facilities for Geographic Information Systems, remote sensing, wet chemistry and palaeo-environmental analysis.
The Department's Tourism Centre is also housed here, and a series of small meeting rooms host the department's undergraduate tutorials. Geography is also the new home for all taught postgraduate students in the core LEC departments. The new building co-locates the department within the Lancaster Environment Centre complex, with the express purpose of enhancing everyday interactions and new collaborations between Geography and its allied LEC departments and NERC's Centre for Ecology and Hydrology, leading to new research opportunities and greater integration of teaching and administrative provision.
The Enterprise & Business Partnerships team in LEC, who develop collaborative relationships with the commercial sector, will be working to deliver economic benefit to the locality and region. Over a five year period 45 companies will be accommodated in the new building, with the aim to safeguard over 140 jobs and create of 30 new jobs in these companies.
The team are also committed to providing assistance to over 300 companies via collaboration, work with over 100 businesses to improve their environmental performance, provide 130 new 'learning opportunities' for students and create seven new businesses
Companies will move in from 2 April, 2007. There are 22 offices available and a target of 15 companies to move into the facility by March 2009. Two companies have already signed lease agreements: ADK Environmental Ltd. – an environmental/ecological consultancy and Enterprise Generator Ltd. – a company working with the Centre for Chemicals Management in LEC to establish a new centre providing services to businesses and industry related to compliance with EU REACh legislation.
An additional six other companies (subject to contract) have also decided to co-locate to date. These include a new company developing bio-fuels, two companies developing novel agricultural technologies for arid parts of the world and a company manufacturing environmentally-safe polymers.
A targeted marketing campaign aimed at specific industry sectors has been developed over the last six months and the co-location team are now starting to actively encourage co-location of companies which have a 'good fit' with academic expertise at the University.
Staff moved into the new premises in March 2007.
Answers to FAQ about LEC III can be found here:
http://www.lec.lancs.ac.uk/ebp/FAQLEC3
● LEC is one of the largest environmental research centres in Europe. The £25 million centre brings together around 300 researchers and lecturers, all working to find solutions to major environmental problems from tracking pollutants to generating sustainable energy. It is a joint venture between the Natural Environment Research Council's Centre for Ecology and Hydrology and Lancaster University. Housed in a state-of-the-art building on the University campus, it provides cutting-edge equipment and controlled environment facilities for the scientists who work there. For further information on LEC go to www.lec.lancs.ac.uk/index.htm