Pupils experience world-leading Science and Technology at Lancaster
07/01/2010 13:06:21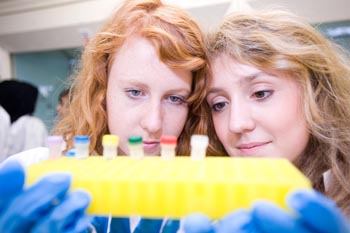 North West pupils taking part in the DNA 'who done it' taster session in Biology
More than 180 students from schools across the region visited Lancaster University for a Science and Technology taster day.
The year 12s met scientists, attended lectures and got hands on in sessions across campus designed to give students a flavour of some of the current research and teaching happening at Lancaster.
One of the most popular sessions was a DNA 'who done it' taster session in Biology. The students analysed cheek swabs from a fictional murder enquiry and tried to work out which suspect committed the crime.
Other sessions included: mobile phone development in Communication Systems; strategy and decision making in Maths and Stats; a visit to 'fridges' which cool to a temperature below -272 degrees centigrade in Physics (the top ranked Physics department in the country); an introduction to glaciers in Geography; modern motor racing car design in Engineering; learning about volcanic eruptions in Environmental Science and hearing about the role of the Psychologist in a criminal trial in Psychology.
Schools taking part in the sixth annual year 12 Science and Technology taster day were: Heysham High School, Lancaster Girls Grammar School, Morecambe High School, Runshaw College (Lancashire); Dallam School, St Benedict's Sixth Form, Barrow Sixth Form (Cumbria); King George V College, Southport and Parrs Wood Technology College, Manchester.
Science Partnership Officer Dr Alan Darragh said: "Lancaster is world leading in many areas of Science and Technology and is currently ranked in the top ten in the country by the Times, the Guardian and the Independent.
"We want students in our region to have the opportunity to meet the people working at the forefront of important developments which are shaping the world around us from particle physics experiments to mobile phone design."
Over 500 pupils visit the campus each year from 30 schools and colleges.