New funding for Volunteering Unit projects
09/03/2004 16:10:44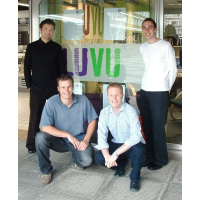 The Volunteering Unit at Lancaster University (LUVU) has received grants for three projects – together worth £145,000 – to help develop and deliver ICT support for Blackpool based community organisations, to expand its Schools Partnership and to develop the Distraction Burglary project.
The first award has been given by the European Regional Development Fund to the Volunteering Unit in partnership with Lancaster University's Business Enterprise Centre and Blackpool Council for Voluntary Services and is worth £130,000 over two years. Staff and student volunteers will help people from charities and community groups to develop their ICT skills.
"We expect to have between 40 and 80 volunteers working on this project over the next two years," said Ben Matthews, director of LUVU. "We will help organisations determine what they actually need and then we will get volunteers to deliver whatever is appropriate, whether it's to set up an e-mail account, build a database or design a website.
"We will use this project as a pilot – we'd like to extend it out to Lancaster and across Lancashire depending on future funding. We will use these two years to develop something with a strong framework that other groups will want to buy into."
The other award, for £10,000, has been made by the University's Friends and will help the unit develop its work with schools. The project will involve teams of student volunteers working with teachers to deliver innovative activities within the classroom or after-school environment.
Activities will include an arts event where large-scale paintings are created by pupils inspired by local issues; planning and filming a documentary about homelessness in the region; and students working as tutors in the classroom helping children with their reading skills or teaching French. The work will be with both primary and secondary schools.
"This has grown out of a project started last year when we had six of our students going into a school to help pupils with reading," said Ben. "We had such a demand from students that we ended up placing 45 at seven more schools. We want to make it much more of a project and develop resource packs – if we have volunteers working in 10 or 15 schools we can build a project that spans across them all."
The final grant, for £4,200, has been made by the Community Safety Partnership and the Lancashire Partnership Against Crime to develop the Unit's Distraction Burglary project. The project, set up last year, aims to reduce the number of homeowners who are targets for bogus calling.
The project had a successful first year helping many elderly homeowners by visiting them in their home and delivering a simple but effective system to reduce the risk of being a victim of bogus callers.
"This year the number of volunteers available for visits has tripled and the service on offer has been developed allowing many more people to benefit," said Ben.
The Volunteering Unit, which was set up two years ago, is managed by the Students' Union and last year attracted around 130 regular volunteers with another 50 helping out at particular events such as the fun run.
Since it opened, its work has included a scheme to design and build a dog agility course for the Animal Care charity; and the Cranwell Conservation project which has involved redesigning and renovating a small wetland area between the university and city centre. To read more about LUVU visit: www.luvu.org.uk
Picture caption: The LUVU team from l-r: Ben Matthews (Director); Tom Hallsworth (Volunteer Co-ordinator); Fred Binley (Schools and ICT Volunteer Co-ordinator); Rob Ellis (Community ICT Developer)