Students in the Driving Seat
07/16/2004 10:55:09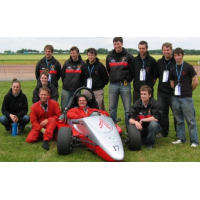 A team of 4th year MEng students have finished 8th, (2nd best UK team) the best ever finish for a Lancaster team in the International Formula Student race car competition held at Bruntingthorpe proving ground, Leicestershire.
Run by the Institution of Mechanical Engineers (IMechE), in partnership with the Society of Automotive Engineers (SAE) and the Institution of Electrical Engineers (IEE), Formula Student promotes careers and excellence in engineering, by challenging university students to design, build, develop, market and compete as a team with a small single seater racing car.
The 2004 event run over the same three days as the British Formula 1 Grand Prix, attracted a strong field of 56 international entrants, from the UK, Canada, USA, Australia, Japan, Austria, Sweden, Finland, France, Germany, Holland, Spain, Greece, Italy, Slovenia, South Korea, India, Ireland and Portugal.
The Lancaster team with Car 17, designed and built by the students in nine months competed well in all events. Notable performances were from Laura Atkins achieving the 3rd fastest acceleration time taking 4.19 seconds to cover the 75m track (0-60 mph in 3.2 seconds!), and Alan Overton during the autocross achieving the 3rd fastest time, only to be penalised for knocking over a cone and dropping to 16th. Many people commented that Lancaster's car was the best looking at the event.
After three days of competition, the overall winners were RMIT University from Australia. Although disappointed not to achieve the top UK team, Lancaster have been victorious over much larger established UK teams such as Bath, Birmingham, Brunel, Imperial College, Leeds, Loughborough, and Warwick universities, many of which have dedicated automotive engineering courses.
The team would like to thank the project sponsors and other supporters as well as the technicians and staff who have contributed towards the projects success. For further details please see the team web page: http://www.comp.lancs.ac.uk/engineering/lancaster-racing/
Anyone interested in sponsoring next years team should contact Stephen Quayle (01524 593095, s.quayle@lancaster.ac.uk )
Photograph - L - R, Daniel Scott , Michael Barcroft, William Stumpf, James Rowley, Colin Nash, Richard Gumbrell, Ian Pridham
Bottom row L- R, Sarah Marshall, Laura Atkins, Alan Overton, Phil Buxton, Chris Kentish.
The driver of the car is Phil Buxton.