Launch of LICA Spring Season
01/07/2010 16:16:05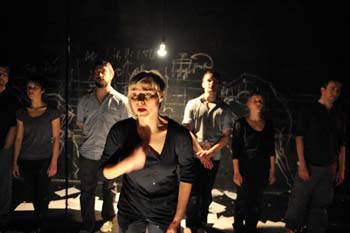 Vince Dance Theatre: If We Go On
A new season of public arts events from the Lancaster Institute for the Contemporary Arts includes an appearance by poet Lemn Sissay and the Edinburgh Festival hit "Trilogy".
The critically acclaimed "Trilogy" from Nic Green sees local women joining Nic and her company in a large-scale naked dance ensemble celebrating the joys and complexities of womanhood. There are a few places left to participate in this once-in-a-lifetime performance so please contact alice@nuffieldtheatre.com to find out more.
There is also athletic dance from the Retina Dance Company, compelling piano from Paul Lewis and the Conversations with the Collection exhibition, where invited artists examine the treasure trove that is the Peter Scott Gallery's permanent collection and create surprising pairings with artworks from elsewhere. The opening of this is marked with a special evening event on February 16th , followed by the world premiere of Lancaster-based Proto-type Theater's new show, Third Person (Redux).
LICA includes the Lancaster International Concert Series, Nuffield Theatre and The Peter Scott Gallery. The artistic cross-overs that the merger of the three organisations has enabled include siting Tim Crouch's fantastic play England in the Peter Scott Gallery, Mem Morrison and local women in Lancaster Town Hall, and A2 Company and local residents in the Storey Gallery.
The Nuffield itself is hosting several concerts, plus visits from the likes of Faulty Optic, Quarantine, Ridiculusmus, Retina Dance and Lemn Sissay. Interdisciplinary exhibitions include explorations of sustainability (with FutureEverything) and the documentation of live artists and musicians (with SPILL Festival).
boxoffice@lancaster.ac.uk | Tel: 01524 594151
The 2009-10 brochure, including full details of the Nuffield Theatre, Peter Scott Gallery and Lancaster International Concert Series programmes is available, please send requests to r.baynton@lancaster.ac.uk.
PROGRAMME
(*denotes free tickets available for under 26s)
JANUARY
Experimentality (opening event)
6pm, Tuesday 12 January 2010 (exhibition runs until Saturday 6 February)
An open exhibition of photography that is experimental in form or content.
Navarra & Sacconi String Quartets

7.30pm, Thursday 14 January 2010
Two young, engaging and award-winning quartets join forces in this appealing programme of thrilling musicality.
Psappha – Dances in Disguise
7.30pm, Thursday 21 January 2010
'A Viennese Night with a twist' is how Psappha describes this irresistible tribute to Johann Strauss the Younger.
Retina Dance Company – Antipode*
8pm, Tuesday 26 January 2010
In Antipode, four fantastic male dancers are joined by a double bass player as they perform a raw and exhilarating piece of athletic dance. Powerful and energetic movement emphasises their connection with the live music.
Elias String Quartet
7.30pm, Thursday 28 January 2010
Hailed by The Sunday Telegraph for its 'poetic, charismatic, virtuosic… marvellous playing' the Elias Quartet demonstrates its fervent passion and infectious enthusiasm for the music of Schubert.
Nic Green – Trilogy*
8pm, Saturday 30 January 2010
Green and her company examine and interrogate the joys and complexities of being a young woman today with relentless, raw energy in this thrilling new art-work which includes a large-scale, naked ensemble choreography featuring up to 50 local women.
FEBRUARY
Random People – Versions 1-5*
8pm, Tuesday 2 February 2010
Responding to a set of 101 descriptions of actions, four performers create a short solo, each using the descriptions as text or as literal instructions. The performance culminates in a unique group interpretation.
O Duo with Morgan Szymanski
7.30pm, Thursday 4 February 2010
Described by The Daily Telegraph as 'brimming with style and panache', percussionists O Duo join the acclaimed guitarist Morgan Szymanksi from Mexico City in dazzling arrangements of classical favourites, alongside O Duo's signature spectacular, Bongo Fury.
Vincent Dance Theatre – If We Go On*
8pm, Tuesday 9 & Wednesday 10 February 2010
This exceptional ensemble of multi-tasking performers and musicians turn words into movement, shunt gesture into sound and at times burst into song to create a performance that asks: If you had one last dance in you, what shape would it take?
Sinfonia ViVA
7.30pm, Thursday 11 February 2010
Featuring soloist Clara Mouriz, praised in The Times for being 'a light, agile mezzo of great charm and elegant intelligence...' and the gifted young conductor Alexander Shelley.
Conversations with the Collection (opening event followed by Proto-type Theater performance at 8pm)
6pm, Tuesday 16 February 2010 (exhibition runs until Friday 19 March)
The Peter Scott Gallery is the permanent home of many wonderful collections of artworks and antiquities. We are working with a number of artists to develop the idea of artistic conversations, pairing selected works with pieces from elsewhere across styles, continents and centuries.
Proto-type Theater – Third Person (Redux)*
8pm, Tuesday 16 & Wednesday 17 February 2010
By turns hilarious, moving and disturbing, THIRD PERSON (Redux), from Lancaster and New York based Proto-type, is a lecture-demonstration-cum-performance that investigates the events that unfolded out of the electric meeting of two of history's most infamous lovers.
Manchester Camerata Ensemble
7.30pm, Thursday 18 February 2010
Manchester Camerata's brilliant wind principals are joined by the outstanding pianist Benjamin Frith in an irresistible programme. Including Françaix's set of florid Variations, jazzy in mood and immediate in appeal.
Cupola Bobber – Way Out West, the Sea Whispered Me*
8pm, Monday 22 & Tuesday 23 February 2010
Using a multi-layered square tarp artfully manipulated to locate the performance in the sea, on the land, in the sky, and in the theatre, duo Cupola Bobber create an insightful and rewarding pastiche full of imaginative wit.
Paul Lewis piano
7.30pm, Thursday 25 February 2010
The young British pianist Paul Lewis, celebrated for his considered, compelling and profound interpretations of the Viennese classics makes an eagerly anticipated return to Lancaster.
MARCH
Julian Fox – You've got to love dancing to stick to it*
8pm, Tuesday 2 March 2010
Fluttering somewhere between theatre, comedy and performance art, Radio 4 star Julian Fox transforms the stage into an urban beach as he fondly relives a summer spent at Brockwell Lido.
Doric String Quartet
7.30pm, Thursday 4 March 2010
One of the outstanding quartets of their generation, the Doric String Quartet delighted Lancaster concertgoers at the opening of last season. They return with a programme including Haydn, Korngold and Brahms's F minor Piano Quartet – powerfully tragic, lilting and whimsical.
Lemn Sissay – Why I don't hate white people*ll
8pm, Thursday 4 March 2010
With his trademark sharp humour, Lemn investigates why it is that he doesn't hate white people, in a whirlwind tour of race seen through the unique and intensely personal perspective of one man's life.
Adrian Brendel – Bach Cello Suites 2
7.30pm, Thursday 11 March 2010
The second of Adrian Brendel's concerts devoted to Bach's Suites for unaccompanied cello. Brendel's lightness of touch and the suites remarkable dynamic contrasts make for compelling listening.
Psappha – Trouble in Tahiti
7.30pm, Thursday 16 March 2010
Leonard Bernstein's one-act opera from the early 1950s, bites deep into the Big Apple in its bittersweet exploration of the shattered American dream, drawing on jazz, musical and operatic idioms, as well as referencing radio jingles of the time.