Arts Events
04/30/2008 16:16:25

PETER SCOTT GALLERY
EXHIBITIONS 28 April – 30 May 2008
Main Gallery
Art of Japan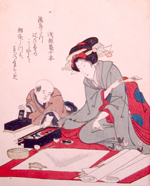 Utagawa Kunisada, Female Artist, c1810-20, surimono woodblock print, Image © Peter Scott Gallery
An exhibition of prints and paintings from the Peter Scott Gallery Trust Collection at LancasterUniversity and on loan from BlackburnMuseum and Art Gallery. Lancaster's international art collection features work by Japanese artists dating from the 17th Century to the 1960s, including Buddhist woodcut prints, surimono prints, scroll paintings and careful studies of the natural world. BlackburnMuseum and ArtGallery holds one of the most comprehensive collections of Japanese prints outside of London. The collection includes landscapes, pictures of famous courtesans, portraits of actors and scenes of everyday life, by masters of the Ukiyo-e school such as Hokusai, Hiroshige and Utamaro.




Manton Room
SANKOFA: CERAMIC TALES FROM AFRICA
An exhibition exploring the ways in which contemporary ceramics in Africa draw on older traditions to shape new directions. Sankofa is a word from the Twi language of West Africa that means 'learning from the past to move forward to the future'. This exhibition has been curated by Moira Vincentelli, Senior Lecturer and Curator of Ceramics at the University of Wales Aberystwyth, in collaboration with Manchester Museum, and is based on field trips to Tunisia, Morocco, Ghana and South Africa.
Open Bank Holiday 26 May
Gallery Open: Monday - Friday 11am-4pm and late Thursday 11am-9pm. The Gallery is located in the Great Hall Complex at the end of the North Spine.
PETER SCOTT GALLERY, Lancaster Institute for the Contemporary Arts, Lancaster University, Free Admission Tel: 01524 593057 www.peterscottgallery.com
An evening talk by Moira Vincentelli, Curator of Sankofa, will be held in the Elizabeth Livingston Lecture Theatre at 7pm on Thursday 29 May. £4 per person (free to Friends of the Gallery and NUS card-holders). The Gallery Lectures programme is supported by the Granada Foundation. Please call 01524 593057 for further information and to reserve a place.
Open Bank Holiday 26 May
Gallery Shop: books, art magazines, cards, hand-made jewellery, silk scarves and ceramics.
Peter Scott Gallery, Lancaster Institute for the Contemporary Arts, Lancaster University Tel: 01524 593057 www.peterscottgallery.com