Engineering Students Win Awards
09/30/2010 00:00:00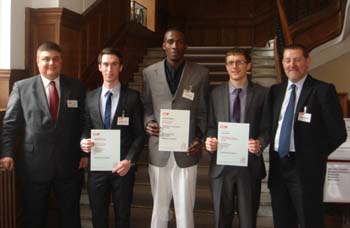 From left: Dr George Aggidis, Oliver Feather, Kingsley Adinnu , Sam Lomas and Robert Brown
Three engineering students from Lancaster University have won awards from the Institution of Mechanical Engineers for outstanding projects relating to Renewable Energy and Hydro Power.
They were presented with their awards at the Institution's headquarters in London by Robert Brown, Chairman of the Institution's Fluid Machinery Group.
Mr Brown said: "I was very impressed by the standard of work that they've chosen and the presentation. This is a good start to their career, helped by their supervisor Dr Aggidis who is one of the leaders in this field."
Oliver Feather won the IMechE Best Project Award for his project on the Solway Firth tidal barrage turbine performance optimization, Kingsley Adinnu won the Best Project Certificate for his project on the Automation of the Gilkes Pump and Turbine Lab Test Facility and Sam Lomas won The Frederic Barnes Waldron Best Student Award for his project on Siphonic Hydropower.
Their project supervisor Dr George Aggidis is also a Board Member of the IMechE Fluid Machinery Group and Director of Lancaster University Renewable Energy Group (LUREG), which carries out research into conversion of energy from water sources, including waves and tides and land-based hydro power.
He said he was pleased with their success.
"This shows the standard of expertise at LUREG which is one of the best in the UK. We are world leading in this cutting edge research and the students benefit from this. It's unusual for three to get awards from the same area and this will be a highlight of their career."
Two of the students have already been snapped up by employers, with Oliver Feather now working as a mechanical engineer for Sulzer in Leeds and Sam Lomas for Biwater in Manchester.
Kingsley Adinnu is continuing as a year 4 Engineering student at Lancaster University with a Renewable Energy Hydro Power related Project supervised by Dr Aggidis.