Medical Students Inspire Schoolchildren
02/29/2008 16:55:11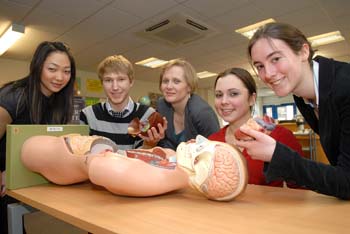 From left: student Cindy Chan, pupil Josh Macaulay, Dr Karen Grant, pupil Becky Dugdale and student Naomi Fleming
Pupils at a Lancashire school are aiming high after being visited by medical students from the University.
The undergraduates spent a day at Our Lady's Catholic College in Lancaster as part of a pilot project to recruit future doctors from a broader social background.
Two pupils – Becky Dugdale, 17, and the school's headboy Josh Macaulay, 18, from Bolton-le-Sands - have already been offered a place at Lancaster University to study Medicine.
He said: "I love science and working with people so I thought of a way I could combine the two by becoming a doctor. I want to join the RAF as medical officer after my degree."
The visit by the medical students aims to encourage more pupils to follow in Josh's footsteps by interesting them in science and raising their aspirations.
The medical students used anatomical models to teach a group of Year 8 pupils about healthy eating and digestion.
Jo Curran, a second year medical student, said: "They're so refreshing and enthusiastic and we really enjoyed it. We're not just promoting medicine but science in general although they're at the age where they are starting to look at careers. One girl said she was thinking of nursing and I said why not medicine? Why not have a goal and realise your potential? People think medicine is out of reach but why not just go for it ?"
Another undergraduate, Clare Fozard, said she had gained a lot from teaching the pupils.
"We mainly see elderly people in hospital but our patients will be from babies upwards so it's good to communicate with schoolchildren because that will be part of our work as doctors too."
The medical students also plan to keep in touch by email with older pupils who are considering medicine and help them through the application process as well as advise them on student life.
The science teacher at Our Lady's, Ruth Lowe, said she had seen an increase in the number of pupils wanting to become doctors since the visits from the University had started.
"It's good for the pupils to see that the medical students are ordinary and that they could possibly be like that too."
Pupil Charlotte Bird, who is 13, said: "The medical students did an interactive lesson and a quiz at the end which was great. Then we built a body out of the different parts and it was much better than a biology lesson."
Matthew Hannigan, also 13, said: "We got to ask questions and the students were really nice and helpful. I like science but I'm not sure yet what I want to do."
Dr Karen Grant from the University's Centre for Medical Education said: "We want the pupils to realise that medical students are just ordinary people like them. Instead of me giving a talk in school, it's better for medical students only a bit older than the pupils to spread the message."
The pilot Widening Participation scheme continues for the next two years with further visits to the school planned.