New device to detect arthritis by listening to a patient's knees
07/16/2010 00:00:00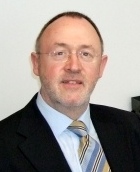 Professor John Goodacre
Researchers have moved a step closer to producing a new device for GPs to detect osteoarthritis and monitor its progression by listening to the noises emitted by their knees.
A team at Lancaster University and UCLan, led by Professor John Goodacre and Professor Lik-Kwan Shark, have found that a technique called acoustic emission - routinely used in the engineering industry to detect unsafe buildings and bridges - can also be used to pinpoint joint degeneration.
A two-year study involving 50 people showed that the sound waves made by the knees of healthy people were different to those with osteoarthritis of the knee.
"We found that that by measuring and analysing high frequency sounds released within knee joints during movement we could tell whether or not the person had osteoarthritis of the knee, and also their age group," explained Professor Goodacre, head of Postgraduate Medicine at Lancaster's new School of Health and Medicine, and an honorary consultant rheumatologist at Blackpool, Fylde and Wyre NHS Foundation Trust.
Professor Goodacre added that the research, funded by Arthritis Research UK, provided an excellent basis for the development of a small, portable piece of equipment which could be used easily by GPs, hospital doctors and nurses to assess patients with knee osteoarthritis regularly to see whether the knee is changing or responding to treatment.
However, there were still questions around the power of the testing method and whether it could detect more subtle changes.
In the study, microphones were attached to the knees of patients and healthy controls, and the noises emanating from their knees were measured as they stood up from a sitting position five times.
Professor Goodacre is now keen to develop the work further by testing and validating the equipment on larger numbers of people, and is currently designing the next phase of the work which he hopes will involve GP surgeries and orthopaedic and rheumatology departments around the country.
The research has been published in clinical and medical engineering journals and was presented at the British Society for Rheumatology conference.
"At the moment it's looking very optimistic, and I can envisage that this device could be used as both an early diagnostic tool for GPs, and potentially as a quick, simple means of detecting the progression of osteoarthritis, reducing the need for MRI or other expensive, and less accessible, techniques," said Professor Goodacre.