Paul Kenny - Peter Scott Gallery Exhibition
04/08/2005 11:59:03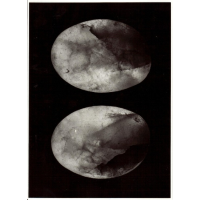 An exhibition of photographic works produced by Paul Kenny during an Art and Science residency at Lancaster University, will be on display on the upper floor of the gallery from 18 April until 3 June. The year-long residency has been funded by Lancaster University as part of its 40th anniversary celebrations and also by the Friends of the University. The residency has enabled Paul Kenny discuss his work with a number of scientists working at Lancaster University, and to explore the links between art and science.
Paul Kenny has produced a body of new work during the course of the residency which will be exhibited for the first time at the Peter Scott Gallery. One of the themes he has developed in his work is place and scale associated with flows of water in the landscape.
"Whilst discussing my work with scientists I am struck by the similarities between us not the differences. They too are often trying to express multi-layered complex issues as a simple equation or "truth". I, like them, only arrive at a satisfactory piece of work after conducting rigorous experiments and following many blind alleys."
"My work may appear simple but contains complex issues of beauty, fragility, links between micro and macro, warnings about man's effect on the landscape, homages to other artists with similar concerns, shapes, textures, the power of nature, man's place on the earth and the earth's place in the universe." Paul Kenny
Paul Kenny has had 14 solo exhibitions and contributed to numerous group exhibitions. His work is held by many public and private collectors including a major acquisition by the Scottish National Photographic Collection.
Artist Talk
Paul Kenny will give an illustrated talk about his residency on Thursday 28 April, 7pm at Lancaster University. Please call the gallery for details on 01524 593057.
Gallery open during exhibitions: Mon – Fri 11am-4pm & late Thurs 11am-9pm. Open Bank Holidays 2 & 30 May. Free Admission Tel: 01524 593057 www.peterscottgallery.com