Scientists Dig Deep for Carbon Solution
07/01/2010 13:04:32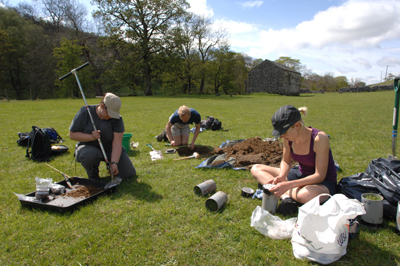 sampling grasslands in the Yorkshire Dales
Lake District grasslands could be playing an important role in the fight against global warming.
Grasslands cover a vast area of the UK, forming the backbone of the livestock industry. However, they also play a crucial role in the global carbon cycle, storing vast amounts of carbon beneath them in their soils.
New research is being carried out by scientists from the Lancaster Environment Centre, Lancaster University, to work out how much carbon is being stored in UK grasslands and find out if it could potentially store even more. This would contribute to climate change mitigation, because carbon locked in soils isn't being released into the atmosphere where it contributes to global warming.
Teams of scientists from the Universities of Lancaster and Reading, and North Wyke Research, have begun sampling a large number of sites across England, including grasslands in the Lake District at Glenridding, Grasmere, Thirlmere, the Newlands Valley and Skiddaw, and in the Yorkshire Dales.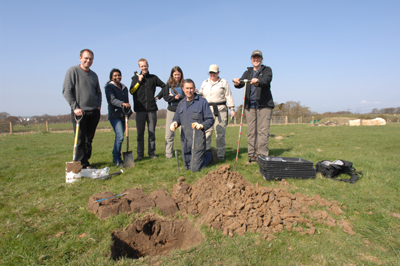 team training day at Hazelrigg
The five year study - funded by a £650,000 grant from the UK Department for Environment, Food and Rural Affairs - will improve understanding of how grassland can be managed to protect carbon stored in soil, while performing other key roles such as biodiversity conservation and the maintenance of viable agricultural production
A major part of the project is a national survey, now underway, to measure how much carbon is actually stored in UK grasslands and how this carbon is affected by the way that grasslands are managed.
Other studies will also test whether enhancing botanical diversity increases carbon storage in grassland soils, as well as bringing additional benefits such as nutrient retention and pollination. This will be mainly tested using a long term plant diversity restoration experiment at ColtPark, Yorkshire Dales, and experiments at Lancaster University.
Professor Richard Bardgett, Lancaster Environment Centre, who leads the project said: "As far as I know, this is the first survey of its kind, and certainly the first to measure carbon in grassland soils to depth. Not only do we have to sample a wide range of grassland types around the country- including many sites in the Yorkshire Dales and Lakes - but we also have to dig deep, to capture the carbon that can be stored as much as a metre down the soil horizon.
"Soil is often overlooked in the climate change debate, but it has an incredibly important role to play. This is because most carbon on land is stored in the soil, and the loss of the carbon to the atmosphere could exacerbate climate change.
"Ultimately, we want to provide a scientific basis for the management of carbon storage in UK grassland – helping offset carbon emissions while also providing other potential benefits to the ecosystem."