Householders called to take up water challenge
02/19/2007 15:24:19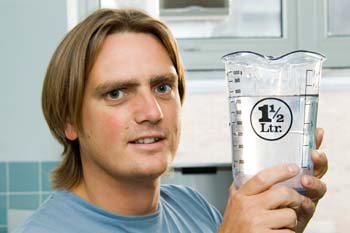 Dr Will Medd
Residents in Essex are being invited to take part in a novel water-saving competition.
The competition, 'How low can you go?' is run by Essex & Suffolk Water (ESW) in collaboration with Lancaster University researchers Dr Will Medd and Dr Heather Chappells.
It will put teams of residents from the ESW Essex supply area against one another in a competition to reduce water wastage.
The contest builds on the idea of the Blakildegard experiment in Denmark, in which a competition was held between two groups of people who reduced their water consumption by around 20 per cent during the contest.
Essex & Suffolk Water operates in the driest region of the country and it is therefore important that the company understands the ways customers can be encouraged to use water efficiently.
Essex & Suffolk Water is now looking for households interested in taking up the challenge. Participants can apply as individuals or as a group. Teams of 6-8 households will be formed. Between May and September the teams will be given expert advice from ESW and Lancaster University and team members will be able to support one another in a bid to reduce their water consumption and see off the competition.
As well as individual prizes for the most successful team, a £1,000 donation from ESW will also be split between two water charities - one chosen by each team. The team who saves the most water will earn proportionately more for their chosen charity.
Dr Will Medd, from Lancaster University's Centre for Sustainable Water Management, said: "This competition should be good fun for the people taking part. We hope it will enable people to share ideas about water saving and help us all learn how to make some permanent changes."
Dr. Will Medd is a Lecturer in the Department of Geography and associate in the Centre for Sustainable Water Management, Lancaster University. He specialises in the social aspects of sustainable water management.
Essex & Suffolk Water (ESW) supplies water to 1.7 million customers in Essex and Suffolk. ESW recognises the need to remain at the forefront of research and development. Research projects are carried out on a continual basis with the aim of gaining a better understanding of water use within the supply area and to aid the demand forecasting. It is essential that ESW understands fully the way in which its consumers, both commercial and domestic, use their water.
If you are ready for a challenge contact Megan Rogers at Essex & Suffolk Water (megan.rogers@eswater.co.uk, Tel. 01245 212854) or Will Medd at Lancaster University (w.medd@lancaster.ac.uk, Tel. 01524 593757).