Stephen Green Lecture
02/18/2005 12:17:53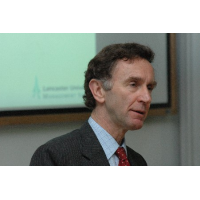 Business people from across the country congregated at Lancaster University Management School this week in the new £10million Lancaster Leadership Centre.
The event - which featured a lecture from Stephen Green, Group Chief Executive of HSBC Holdings plc - was the first Professor Sir Roland Smith Chief Executive Lecture. This annual event will commemorate the contribution Sir Roland Smith made to the world of academia and business.
Mr Green gave a lecture on the Rise and Rise of Asia. He outlined the opportunities for HSBC, the changing global business environment and the effect on business both in the UK and worldwide.
Mr Green joined The Hong Kong and Shanghai Banking Corporation Limited in 1982 and worked his way up to his appointment as Group Chief Executive in June 2003.
Guests at the lecture included an eclectic audience of Lords, Chief Executives, students and Managing Directors. Companies such as AstraZeneca, Britannia Building Society, Northwest Development Agency and BAE Systems were all represented.
This event marks the start of a new era for Lancaster University Management School as it continues to make headlines.
In addition to its standing as a 6-star research school (one of only two in the UK), Lancaster's MBA is now ranked 3rd in the UK in the latest Financial Times ranking (Jan 2005). The School has expanded significantly during the last two years and now employs over 110 faculty.
Dean of LUMS, Professor Sue Cox, said: "Thanks to the financial support from the Northwest Development Agency and Lancaster University, the North West now has a world-class centre for leadership development and support. We will continue to increase our help to businesses across the region whilst also expanding our work internationally with companies across the world. We can expect many more outstanding speakers in the future following Stephen Green's thoughtful and inspiring presentation."