Politics professor presents new exhibition
06/18/2008 10:18:48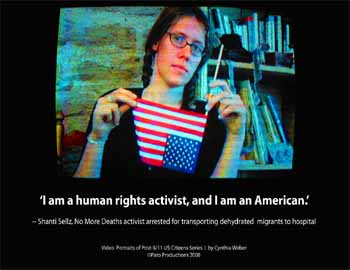 'I Am An American': Video Portraits of Unsafe US Citizens
Lancaster University Professor of International Politics Cynthia Weber will unveil her new exhibition ' I am an American' - video portraits of unsafe US citizens at the Dukes, Moor Lane, Lancaster, this week.
The exhibition will run from the evening of Thursday June 19 until July 18 and is part of a Lancaster University Institute for Advanced Studies program theme on 'Designing Safe Citizens' called the New Sciences of Protection: Designing Safe Living.
Five years after 9/11, Cynthia Weber, who is American, began on-camera interviews with US citizens of various ages, races, religions, sexes, and ethnicities caught up in the security and immigration crossfire of the 'war on terror'. Each US citizen was invited to reflect upon their experiences of citizenship and patriotism after 9/11, to create a pose (often with the US flag) that epitomizes their experiences, and to encapsulate their experiences into a sentence that includes the words, 'I am an American.'
Professor Weber says: "Ten days after 9/11, the American Ad Council broadcast its famous public service announcement (PSA) 'I am an American' which according to the Ad Council, helped the country unite in the wake of the terrorist attacks.
"My exhibition of video portraits beam conflicting images, ideas, and experiences of US citizenship through the gallery space. The overall effect is to feature US citizens whose experiences of citizenship fragment US national myths about identity, citizenship, tolerance, and patriotism.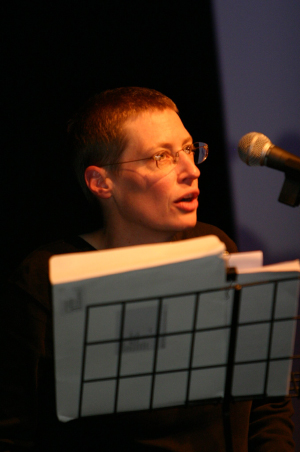 Professor Cynthia Weber
Last year Professor Weber completed a short film about Chaplain James Yee - The US Army Muslim chaplain serving at Guantanamo Bay who was wrongfully arrested on charges of aiding the Taliban and Al-Qaeda. The film is one of a series of ten short films exploring what it means to be an American Citizen post 9/11 and which will feature in this exhibition.
Cynthia Weber is a Director of the media company Pato Productions and Professor of International Politics at Lancaster University. Her research was supported by the BritishAcademy, the Leverhulme Trust, and Lancaster University.
This exhibition is co-sponsored by OpenDemocracy.