Lancaster water expert in Brazil
04/08/2005 13:53:13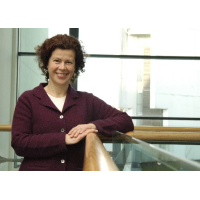 A Lancaster Environment Centre scientist spoke at an international conference in Brazil on the world's water problems.
Professor Louise Heathwaite, director of Lancaster University's Centre for Sustainable Water Management (CSWM), gave a presentation to the 7th International Association of Hydrological Science's Scientific Assembly.
The assembly, held in the Brazilian city of Foz do Iguaçu in April, tackled issues from providing fresh water for domestic and agricultural use, protecting life and property from flood and drought and securing the sustainability of water supplies in the face of increasing demand.
Professor Heathwaite is currently vice president of the International Association of Hydrological Science. She is the first woman to be elected to this position in the Association's 80 year history. IAHS is a nongovernmental scientific association, which deals with all components of the hydrological cycle and related processes. The Association has over 75 National Committees and over 3,400 individual members.
Professor Heathwaite is convening a Symposium at the conference on the Dynamics and Biogeochemistry of River Corridors and Wetlands and has edited a book on the subject.
For further details of the assembly go to www.iahs.info
For information on the Centre for Sustainable Water management go to www.lec.lancs.ac.uk/cswm/