First visit by Chancellor of Sunway University College
12/05/2008 10:44:02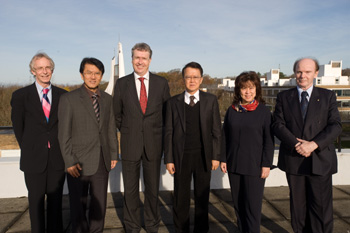 L – R -Professor Bob McKinlay, Deputy Vice-Chancellor, Mr Lee Weng Keng, CEO of Health and Education, Sunway Group, Professor Paul Wellings, Vice-Chancellor, Tan Sri Dato Seri' Dr Jeffrey Cheah, Chancellor of Sunway University College, Ms Elizabeth Lee, Executive Director of Sunway University College, Professor Jarlath Ronayne, Vice-Chancellor of Sunway University College
Tan Sri Dato' Seri Dr Jeffrey Cheah, Chancellor of Sunway University College and Chair of the board of the Sunway Group visited Lancaster University for the first time in November.
He was accompanied by Mr Lee Weng Keng , CEO of Education and Healthcare, Sunway Group, Professor Jarlath Ronayne, Vice-Chancellor of Sunway University College and Ms Elizabeth Lee, Executive Director of Sunway University College.
The first graduates of the Lancaster University/Sunway dual degrees received their degrees in Psychology in October this year. There are currently 600 students enrolled on degree programmes in Accounting and Finance, Business and Management, IT, Psychology, Hospitality Management and Tourism. Students study at Sunway, but are awarded a degree from both institutions.
The visit of Sunway's Chancellor follows a Lancaster delegation to Malaysia two years ago to formally sign an agreement making Sunway University College in Kuala Lumpur an affiliated institution. One of the Lancaster University's founders, Lord Taylor of Blackburn, was present at the signing on 18th September 2006. Lancaster University's Chancellor, Sir Christian Bonington, also visited Sunway in April 2007, as part of the celebrations to mark the 50th Anniversary of Malaysian Independence.
Lancaster University and Sunway University College plan to launch a number of jointly delivered postgraduate degrees starting in 2009. Lancaster staff have already been at Sunway to teach staff development and Continuing Professional Development workshops, including Dr Chris Edwards and Dr Nick Race from Computing who visited Sunway in November to deliver a workshop on 'Advanced Networking'. Attended by students from industry and Sunway University College staff, the workshop explored some of the latest issues in networking and is a move towards a joint MSc offered at Sunway between Computing and Communications Systems.