Nuffield Theatre funds new 'artist in residence'
06/13/2005 16:07:35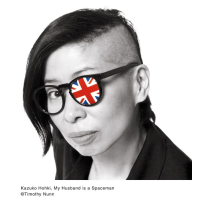 Musician, animator, director, performer and storyteller Kazuko Hohki, who delighted audiences in May 2004 with her show My Husband is a Spaceman, is working with The Nuffield Theatre, for a year as their 'Time and Space' artist.
The Nuffield has received £10,000 in funding from the Arts Council for the Time and Space project which allows experimental artists with a proven track record the time to develop new work within the Higher Education system. Theatre Studies students at Lancaster University will have access to the artist as work progresses, giving them a valuable insight into the creative processes of professional performers.
Kazuko is currently working in Hawarth, West Yorkshire, exploring the fascination that her compatriots have with Emily Bronte's classic novel Wuthering Heights. Hawarth has become something of a pilgrimage place for Japanese tourists eager to soak up the atmosphere and Kazuko has been interviewing visitors in her own unique style to strip bare this curious obsession with the quintessentially British romance. The results of her investigations will form the background to her next performance piece to be premiered in 2006.
Before making her acclaimed solo theatre work, Kazuko founded the Japanese female pop group Frank Chickens, which had an independent chart hit with We Are Ninja and has released five albums and toured worldwide.