Lancaster Pinochet Expert
12/21/2005 12:08:47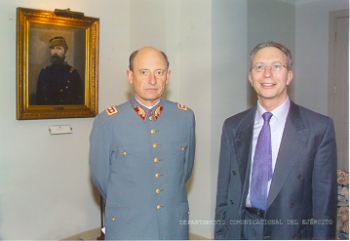 Prof. Sugarman with the head of Chile's armed forces
General Juan Emilio Cheyre, Chile, September 05.


Professor David Sugarman is one of the UK's leading authorities on attempts to prosecute former Chilean President Augusto Pinochet for human rights abuses.
His forthcoming book – Pursuing Pinochet: A Global Quest for Justice - analyses the local and transnational struggles since 11 September 1973 to bring former Chilean dictator, Augusto Pinochet, to justice at home and abroad, and their consequences.
As part of his research into the Pinochet case, Professor Sugarman has conducted more than 300 interviews in 11 countries with key players ranging from senior politicians, top judges and lawyers to the military, NGOs and victims of Pinochet's regime.
In December 2000, Pinochet was first indicted in Chile for human rights crimes. Professor Sugarman was in Chile at the time, and dined with the investigating judge the evening before Pinochet's indictment. In September 2005, Pinochet was stripped of his legal immunity in the Operation Columbo human rights case by Chile's Supreme Court. Professor Sugarman attended the court proceedings, and interviewed leading figures including the President of the Supreme Court, the lawyers involved and the Head of the Armed Forces.
This year, Chile's court's also charged Pinochet with tax evasion, money laundering, and falsifying official documents. To date, authorities believe that Pinochet amassed more than US$27 million in hidden bank accounts and offshore companies around the world. Professor Sugarman has interviewed the Chilean judges and others investigating Pinochet's financial crimes.
Professor Sugarman is a Fellow of the Royal Historical Society and an Associate Research Fellow, Institute of Advanced Legal Studies, London University.
He has published 15 books and written more than 65 articles, essays and review essays on legal history, corporate law, the legal profession, legal education, human rights, law and globalization and law and literature. He has also written for The Times and The Guardian.
Professor Sugarman said: "This is a fascinating period in Chile's history. Until relatively recently it was unthinkable that Pinochet could be brought to trial in his own county but gradually the tide seems to be turning. Now the courts have lifted his legal immunity and declared him fit to stand trial. After more than 30 years of struggle, Pinochet is closer than ever to being brought to justice. This opens the door to further questions being asked about the Pinochet years and those people who actively participated in his regime."