Tropical Rainforest Research
03/07/2006 15:31:20
An international team of scientists is to investigate how tropical forests act as 'the lungs of the world' thanks to a £1.8 million grant from the Natural Environment Research Council (NERC).
Lancaster University is leading the team which will examine how tropical forests in Malaysia interact with the earth's atmosphere. Trees emit and absorb trace gases, which has an impact upon atmospheric composition, chemistry and climate. These processes will be quantified in the project.
Most of the earth's plant matter is in the tropics - America, Africa and South East Asia. But despite the fact that South East Asia has some of the most dynamic ecology in the world it is the least well understood.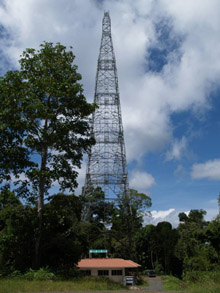 Danum Valley research station 100 metre high tower

The research will be based at the Danum Valley research station in Sabah Malaysia on the island of Borneo where a new 100 metre high tower will allow scientists to collect air samples from directly above the forest canopy.

The NERC's research aircraft

- a specially adapted aircraft which is used in the fields of remote sensing, oceanography, atmospheric and earth science research

- will also be used to collect air samples upwind, downwind

and above the site.



These measurements will be coupled with models of the atmosphere to understand how emissions of trace gasses from tropical rain forests have an impact on how oxidants and particles are formed in the atmosphere.

These processes have an indirect effect on the levels of methane gas in the atmosphere – the second most significant greenhouse gas after carbon dioxide.

The three year project will provide a better understanding of the impact of these processes on local, regional and global scale atmospheric composition, chemistry and climate.

Project leader Professor Nick Hewitt of Lancaster University's department of Environmental Science said: "These forests are tremendously rich ecosystems. The climate is humid, the forests grow very quickly and there is a lot of dynamic biological activity taking place. If we want to understand climate change we have to get a clear understanding of the interactions between forests and the atmosphere in this region of the world."