Arts Events
11/01/2007 09:40:53
Lancaster International Concert Series

22 November @ 7.30pm
Nash Ensemble
Ian Brown piano • Philippa Davies flute • Gareth Hulse oboe • Richard Hosford clarinet • Ursula Leveaux bassoon • Richard Watkins horn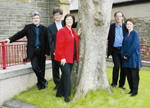 Nash Ensemble courtesy of Orkney Photography
The Nash Ensemble brings a typically imaginative programme to Lancaster International Concert Series. The concert, taking place in The Great Hall at Lancaster University, features two pieces by Hungarian composers - Bartók's popular Romanian Folk Dances and Ligeti's delightful Bagatelles, with their swaggering good humour and technical bravado, alongside Rimsky Korsakov's Quintet – which begins in classical style 'like Beethoven', according to the composer – and Mozart's characterful Piano Quintet.
The Nash Ensemble has built up a remarkable reputation as one of Britain's finest and most adventurous chamber groups and its recordings are often nominated for awards. The Ensemble's most recent releases include recordings of Mozart's piano quartets, Brahms's string sextets and chamber works by Richard Strauss.
Meet the Artist: 6.45pm
This performance is supported by the Friends of Lancaster Concerts
Nash Ensemble – Bartók Romanian Folk Dances, arr. for wind quintet by Gordon Davies, Mozart Piano Quintet in E flat K452, Ligeti Six Bagatelles for wind quintet, Rimsky Korsakov Piano Quintet

Tickets: £14.50, £12 (£12.00, £9.50 concessions) £5.50 Young person, Box Office: 01524 594151 (24 hour answerphone) Fax: 01524 847298, SMS Text: 07810 082832 Email: boxoffice@lancaster.ac.uk, Online Booking: www.lancasterconcerts.co.uk




Nuffield Theatre Presenations

23 & 24 November @8pm


Tim Crouch An Oak Tree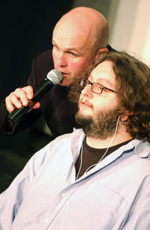 An Oak Tree
Tim Crouch's celebrated playAn Oak Tree comes to the Nuffield Theatre, LancasterUniversity, following huge success at the Edinburgh Festival Fringe, a three-month run off-Broadway, and UK, European and Canadian tours.
An Oak Tree, at The Nuffield on Friday 23 & Saturday 24 November, is a unique two-hander in which the second actor has never seen or read a word of the play… until they're in it. Second actors who have appeared in the production include Christopher Eccleston, Kathryn Hunter, Toby Jones, Laurie Anderson, Frances McDormand and Mike Myers.
An Oak Tree is the story of two men brought together by loss: a father whose daughter has been killed in a car accident and the driver of that car, a stage hypnotist. For the first time since the accident these two men meet, when the father volunteers for the hypnotist's act.
Tim Crouch is a writer, performer and teacher. He is currently an Education Associate at the National Theatre and Associate Artist for the FranklinTheatre in New York. As a writer, Tim's first play, My Arm, opened at the Traverse Theatre during the Edinburgh Festival, 2003. Since then, it has run in New York and London, and toured both nationally and internationally. His latest play, ENGLAND, was awarded a Fringe First and a Herald Arch Angel award at the 2007 Edinburgh Festival.
Nuffield Theatre, Tickets: £8, £6 concessions, Box office: 01524 594151, Email:boxoffice@nuffieldtheatre.com, Website and online booking: www.nuffieldtheatre.com

**************************
27 & 28 November @ 8pm

Cupola Bobber – The Man Who Pictured Space from His Apartment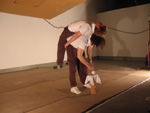 Performers Stephen Fiehn and Tyler B. Myers
Mixing basic materials with homespun engineering, Chicago-based duo (and Nuffield international artists in residence) Cupola Bobber tinker with reality by creating performances that hang between staged theatrics and the utterly familiar. You can catch their first ever UK performance, The Man Who Pictured Space from His Apartment, at The Nuffield Theatre, Lancaster University.
Performers Stephen Fiehn and Tyler B. Myers spend much of the performance stuck together, Fiehn laying on Myers' back. The two struggle in earnest to make it through, to carry on together, through a series of texts and physical routines (think Buster Keaton). They make it through by finally achieving height, perspective, and seeing what's possible. The result is the kind of beauty that makes you sigh.
Founded in 1999 Cupola Bobber have created three evening length performances; 2001's Subterfuge, 2004's Petitmal, and 2007's The Man Who Pictured Space From His Apartment. They have performed at the PAC/edge festival, The Spareroom, and Links Hall in Chicago, Performance Works Northwest in Portland, OR, and The CUE Art Foundation in New York. www.cupolabobber.com
Cupola Bobber are also running an artist's masterclass (10am-1pm, Thursday 29 November). If you are interested in the field of performance art and are keen to know more, or would like to sign up for the workshop, please contact Alice Booth alice@nuffieldtheatre.com
The Nuffield Theatre, Tickets: £8, £6 concessions, Cupola Bobber Masterclass: 10am-1pm, Thursday 29 November, tickets £10 / £7, Box office: 01524 594151, Email: boxoffice@nuffieldtheatre.com, Website and online booking: www.nuffieldtheatre.com
Ruskin Library Exhibition
Ruskin and the Persephone Myth

27 October – 21 December 2007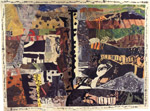 Dinah Prentice, Persephone Rising 1992
A new exhibition at the Ruskin Library, Lancaster University, focuses on John Ruskin and the Persephone Myth. As well as drawings, books and manuscripts from the uniquely comprehensive Whitehouse Collection held at Lancaster, it includes some major loans. Ruskin was a friend and supporter of the Pre-Raphaelite painters, and Birmingham Museums and Art Gallery have lent Proserpine (1882), the last completed oil painting by Dante Gabriel Rossetti. The exhibition begins by examining the influence of the myth in art from classical times to the present day, from ancient Greek coins (which Ruskin collected) to the huge silk quilted textile Persephone Rising (1992), lent by the artist, Dinah Prentice.
The great Victorian writer and artist was well versed in classical mythology, and in many writings discussed the story of Persephone, tricked by Hades into eating some pomegranate seeds, binding her to return to the Underworld for part of each year. But her release each Spring, when the world comes to life, associated her with the seasons and with fertility, as well as with death. Along with Ruskin's studies of flowers and plants, which led to Proserpina – his book of new, humanised, mythologised botany – there is the tragedy of his love of the young, doomed Rose La Touche and his identification of her with Proserpine. Alan Davis, guest curator of the exhibition, says: "An important purpose of the exhibition is to show Ruskin's mythologizing in a light that illuminates its highly personal characteristics, while also making clear its deep roots in universal human experience. As Ruskin himself observed: 'The thoughts of all the greatest and wisest men hitherto, since the world was made, have been expressed through mythology'."
Ruskin and the Persephone Myth; exhibition organised by Alan Davis, Visiting Fellow, The Ruskin Centre, Lancaster University.
Ruskin Library, open daily, admission free