Festival of lights street party
11/01/2005 11:32:51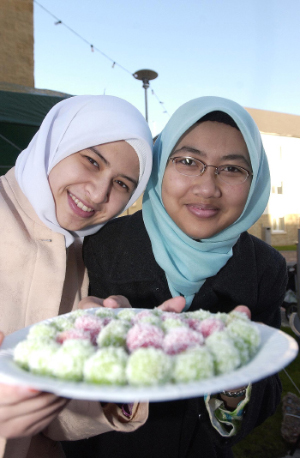 Guests at the party
Lancaster University students held an international themed 'festival of lights' on Sunday, October 30.
Fireworks, flamenco dancing, a Chinese dragon dance and a steel band entertained students and guests at Alexandra Park – part of the University's new student residences development.
The boulevard at the heart of the new student development was lit up by lights brought in specially from Blackpool Illuminations.
The event, which ran from 3pm until 10.30pm, follows on from a summer street party which was laid on by the University and University Partnerships Programme (UPP) for three colleges located in Alexandra Park - Cartmel, Lonsdale and Graduate in June this year. Both parties were co-ordinated by the colleges themselves.

Alexandra Park is the largest university new accommodation project in the country creating 3,405 new and replacement student rooms as well as social facilities, including a converted listed building - Barker House Farm.
UPP has worked with the university on the development to deliver and manage a new student village that will significantly add to students' overall university experience.

Attractions at the festival also included Indian dancers, food stalls and tug of war. Music at the event ranged from salsa to swing.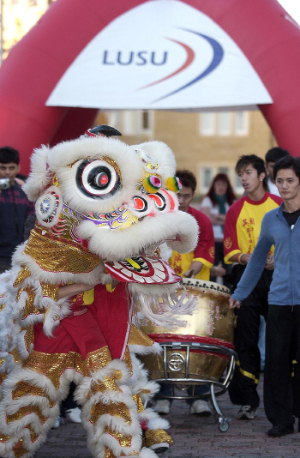 Chinese dragon dance
Lancaster University Director of Finance and Resources Andrew Neal said: "The festival was an excellent example of the Colleges, the University and UPP working together in a creative way. It was a celebration of Alexandra Park as a student facility and a benchmark in the continuing development of the University."
Clive Crawford, Managing Director of UPP, said: "The students at Lancaster University were extremely patient last year as we redeveloped the accommodation at Alexandra Park to deliver high quality, modern and safe rooms to add to their university experience. We felt that the start of a new academic year was a great time for a party to celebrate the success of the new scheme and to welcome a new generation of students to Lancaster."
Davey Garland, Vice President of the Graduate Student Association, said: "The party came off really well. It was a fantastic event. It was great to see a mix of students, staff and their children enjoying the day."