PGCE Week For Students
07/09/2009 16:15:14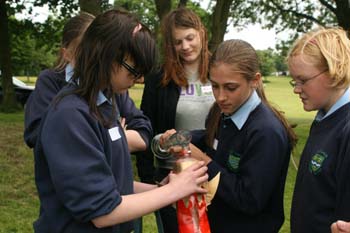 One of the student volunteers working with pupils:courtesy of Abi Williams
Students from Lancaster University have worked with over 200 pupils from seven local schools as part of a scheme for would-be teachers.
The PGCE Week was run by Lancaster University Volunteering Unit (LUVU) to provide students with an insight into teaching as a career.
Lee Blowers, Third Year, Linguistics & English Language, said: "I'd definitely recommend it to future volunteers, it's always going to make your mind up whether you can cope working with children or not! Very useful in gaining experience and helping me choose whether I want to work in primary or secondary."
Joe Bourne, School Partnership & Events Coordinator at LUVU, said: "It was a great success and gave students a valuable insight into teaching before they apply for teaching courses."
Twenty three students volunteered for the scheme, which began with pupils from Heysham High School coming onto campus for on a Geography project. They tested leaves from various places on campus for their carbon content as well as designing new vehicles inspired by the way nature adapts to different environments.
Pupils from Central Lancaster High School worked with the student to deliver a "maths trail" at both Willow Lane and Christchurch Primary Schools, where pupils solved maths puzzles to work their way around the school.
Sixty pupils from Heysham High school visited campus for a business and enterprise day, while forty pupils from Morecambe High school visited for a day of French and German delivered by the student volunteers.
The Loyne Special Educational Needs School brought twenty pupils onto campus for new activities such as cheerleading, and the week culminated with a Maths Challenge Day with children from Central High and Quernmore, Christchurch and Willow Lane primary schools.
English undergraduate Rafaella Ronchetti said the range of children she worked with has helped her make up her mind about teaching.
"This helped me clarify which type of pupils I would like to teach in the future, as well as providing an excellent experience to draw upon in my interview and application for PGCE."
Lee Blowers said: "I feel that I'm more aware of what is wanted from an applicant for both a PGCE and a teaching job in the future. It should definitely help my application for a PGCE and hopefully I'll remember everything I learnt for when I go into teaching! "