Award for Cutting Carbon Emissions
05/14/2010 10:44:39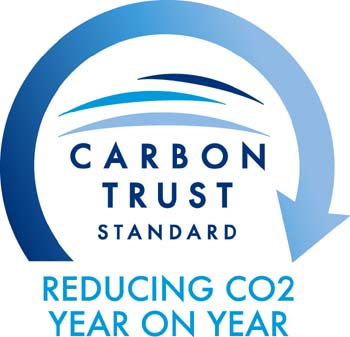 the Carbon Trust Standard
Lancaster University has been awarded the Carbon Trust Standard after taking action on climate change by reducing carbon emissions. The University has made an overall reduction of 245 tonnes of carbon or 0.9% averaged over the past three years.
The Carbon Trust Standard is the world's first carbon award that requires an organisation to measure, manage and reduce its carbon emissions year-on-year. Organisations are rewarded for actions they've taken to cut carbon across their own operations.
The University's Environment and Sustainability Manager Jonathan Mills said: "We're delighted to have achieved the Carbon Trust Standard. It is a great way of showing that we have taken action to manage our carbon emissions and have put in place a comprehensive strategy to significantly reduce these further.
"Reducing carbon emissions is essential if we are to avoid uncontrollable climate change and our dependence on non-renewable fossil fuels. In the current climate it's also very important that we control utility costs, and the Carbon Trust Standard recognises the efforts we have made to reduce utility consumption and emissions and improve efficiency. Cutting carbon emissions is essential for us and also delivers cost reductions. We have already cut our carbon emissions by around 1% over the last three years, despite there having been increases in the number of buildings on campus".
"Implementation of a number of infrastructure projects in our Carbon Management Plan, together with better monitoring and further improvements in efficiency are projected to significantly reduce carbon emissions at Lancaster University over the next few years".
Harry Morrison, General Manager of the Carbon Trust Standard, congratulated Lancaster University. "Being certified with the Carbon Trust Standard is proof an organisation has taken genuine action to reduce their direct impact on climate change by cutting carbon emissions."
The Carbon Trust Standard was launched in 2008 with the support of Environment Secretary Hilary Benn and Dragon's Den entrepreneur Deborah Meaden, who said: "The Carbon Trust Standard is about showing which organisations have really taken practical action on climate change. Tackling environmental issues has to be seen as both a business priority and opportunity and achieving the Carbon Trust Standard is a great way of recognising truly progressive organisations."