Lancaster Experts Advise Government on Flooding
05/30/2008 12:44:00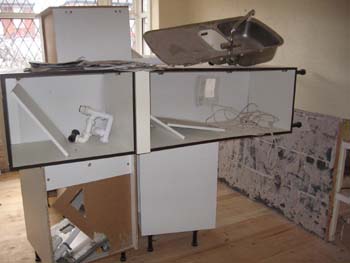 Many homes were severely damaged by flooding
Researchers at Lancaster University have made several recommendations to a Government review into the flooding emergency last year.
They argue that swift settlement of insurance claims and better co-ordination between public agencies will aid the recovery process for residents.
The recommendations are based on preliminary findings from a study into the flooding last June in Hull, where 48 residents are keeping diaries to help researchers understand the practical problems they are facing.
The volunteers, many of whom are still living in temporary accommodation, are keeping a daily log of their experiences and discussing issues affecting how well they are coping with the trauma of being flooded out of their homes.
One resident said: "Some days I just felt like jumping off the Humber Bridge. It's been that low, it's been that bad, except I'm not brave enough to do it. But the state of mind you've been in – some days I've just sat in here and just sobbed and sobbed and sobbed."
And she wrote in her diary about the lengthy process of trying to get approval for an insurance claim.
She said: "I feel like a criminal trying to get blood out of a stone to get any money from building insurance."
The study said: "The stress of dealing with insurance companies and having to go through a cumbersome system of approval adds to people's discomfort and anxiety at a time when they are already in a very distressed condition. We would therefore argue that any discussion of the recovery process should address the culture by which the insurance industry operates to consider the ways in which the financial and emotional stresses acting on flood victims can be reduced."
The researchers also say that the diarists involved in the study were not sure about what support was available from the public and voluntary sectors.
"Our research shows that flood victims go to considerable lengths to try to get information from the various agencies involved in the recovery process and a lack of information – or contradictory information – can cause them considerable distress. Trying to get in contact with loss adjusters, builders and insurance companies becomes a major operation, and the outcome of such phone calls can have a strong impact on a person's peace of mind."
They also say that flooded homes need to be repaired more quickly, although the rush to make the homes habitable should not preclude improvements to prevent further flooding.
The report's authors say: "It is clear that the recovery process from the June 2007 floods will be drawn out, both in terms of emotional recovery, re-establishing the routines of everyday life and the physical repair and investment. Studies on flood recovery indicate the importance of key agencies in providing social support and in rebuilding damaged physical structures (including homes and infrastructure networks) as they are crucial to how people adapt to changed circumstances."
The study, entitled Flood, Vulnerability and Urban Resilience: A real-time study of local recovery following the floods of June 2007 in Hull, is funded by the Economic and Social Research Council, the Engineering and Physical Science Research Council, and Environment Agency. The report's authors were Dr Will Medd, Prof Gordon Walker, Rebecca Sims and Dr Nigel Watson from Geography, Elham Kashefi and Dr Maggie Mort from the Institute for Health Research, and Clare Twigger-Ross from Collingwood Environmental Planning.
The Government's review of the flooding in June and July 2007, the Pitt Review, is due to publish its findings this summer.