Cricketing Legend Clive Lloyd Receives Honorary Degree
07/25/2005 14:53:40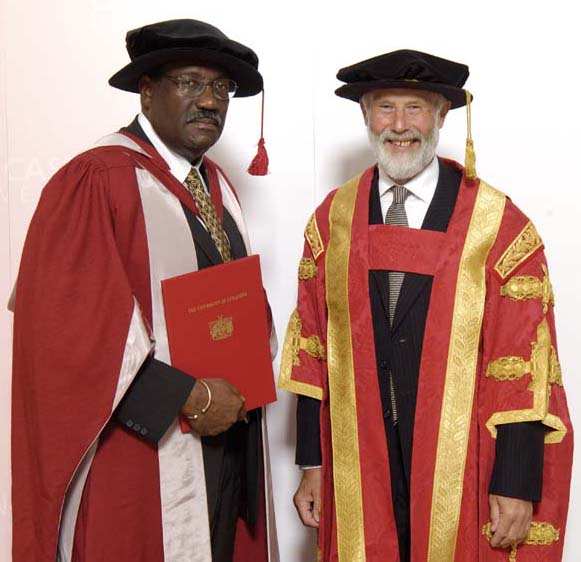 Clive Lloyd (left) receives honorary degree from Chancellor Sir Chris Bonnington
West Indies cricketing great Clive Lloyd has received an honorary degree from Lancaster University. It was presented on Wednesday, July 13, by Lancaster University's Chancellor Sir Chris Bonnington.
In his speech Clive Lloyd said that he had been welcomed when he first came to Lancashire, and was pleased to be honoured by Lancaster University.
Clive Lloyd is one of the most successful of all international cricket captains. His powerful physique allowed him to become a forceful batsman who could turn games round with astonishing speed. As captain of the West Indies from 1974, he led his team to unprecedented success by encouraging them to new levels of committed play, and by uniting players from the different West Indian nations. While captain, he led the West Indies to 26 Tests without defeat and 11 successive wins.
He has a long connection with Lancashire, joining Haslingden in the Lancashire League in 1967 and then transferring to the Lancashire team in 1968, which he captained, between 1981 and 1983 and again in 1986.