LICA launch new season
09/24/2009 15:35:15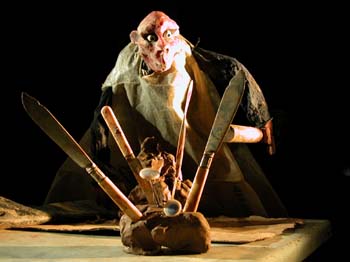 Faulty Optic – FISH CLAY PERSPEX
The Lancaster Institute for the Contemporary Arts (LICA) launches a new season of work with a launch evening in the Great Hall on October 6th.
The joining together of the Nuffield Theatre, the Peter Scott Gallery and the Lancaster International Concert Series within LICA has enabled a melding of art forms in a cross-cutting programme for the Public Arts which includes major visiting companies and ensembles, new commissions, world premieres and unique projects with local residents.
The artistic cross-overs that the merger of the three organisations has enabled include siting Tim Crouch's play England in the Peter Scott Gallery, Mem Morrison and local female performers in Lancaster Town Hall, and A2 Company and forty local residents in a performance installation in the Storey Gallery.
The Nuffield Theatre is itself hosting several concerts, plus visits from performance groups Faulty Optic, Quarantine, Ridiculusmus, Retina Dance and the acclaimed poet Lemn Sissay. Interdisciplinary exhibitions include explorations of sustainability (with FutureEverything) and the documentation of live artists and musicians (with SPILL Festival).
The launch night begins at 6pm on October 6 with the first viewing in the Peter Scott Gallery of Environment 2.0 – an exploration of art and sustainability from Manchester's FutureEverything Festival. There will also be film screenings, music and a free glass of wine before some adult puppetry from audience favourites Faulty Optic at 8pm in the Nuffield Theatre.
Tel: 01524 594151
Full Listings for The Public Arts at Lancaster University (Oct-Dec 2009)
(*denotes free tickets available for under 26s)
Launch Night - from 6pm, Tuesday 6 October 2009
Environment 2.0 (opening) (exhibition runs until Saturday 31 October)
Nuffield Theatre and Manchester's Futuresonic Festival together commissioned artists to respond to the theme of social networking 'unplugged', we present their exploration of art and sustainability.
8pm, Faulty Optic – Fish Clay Perspex* (also showing 8pm, Wednesday 7 October 2009)
In a triple-bill of surreal and fantastical tales, the company manipulate puppets, pointy-footed armless figures, clay, pens and plastic to plunge you into their world of bizarre adult puppetry.


Quarantine – The Soldier's Song
Tuesday 13 & Wednesday 14 October 2009 (on campus)
Friday 16 & Saturday 17 October 2009 (city centre)
After a successful test run at the Nuffield in April 2009, Manchester-based Quarantine return with The Soldier's Song, an installation made with and about currently serving soldiers.

Mem Morrison – Ringside
8pm, Thursday 15 & Friday 16 October 2009
Structured around a lifetime of Turkish Cypriot family weddings, this site-specific performance (set in Lancaster Town Hall) will be performed with a group of 30 local women, playing the roles of Mem's potential wives and wedding guests. To get involved contact alice@nuffieldtheatre.com.

Shakespeare Schools Festival – We Are Such Stuff As Dreams Are Made On...
7pm, Friday 16 October 2009
We are delighted to be one of 65 host venues around the country supporting 10,000 young people to perform in professional theatres. Participating schools include Heysham High School with Beaumont College, Saint Aidan's Church of England Technology College, Bispham High School and Arts College and Morecambe High School.

Oliver Bray – Villa*
8pm, Wednesday 21 October 2009
Oliver Bray, known to Nuffield audiences from his work with Until Thursday Theatre Company (It's A Question of Taste, Droppin' Shoppin'), is performing solo in this new work based around a Russian family's tragic story of loss.

Northern Chamber Orchestra (Nicholas Ward director | Raphael Wallfisch cello)
7.30pm, Thursday 22 October 2009
A miraculous Mendelssohn string symphony and Schumann's Cello Concerto played by one of today's most expressive cellists open this seasons Lancaster International Concert Series programme.

A2 company – The Future of Death / part 5
7.30pm, Friday 23 & Saturday 24 October 2009
Performance company A2, and 40 local volunteers bring us two sensitive and striking public gallery performances taking place in Lancaster's Storey Gallery that explore the interrelationship between living and dying. To get involved contact alice@nuffieldtheatre.com.

Ridiculusmus – Tough Time, Nice Time*
8pm, Monday 26 & Tuesday 27 October 2009
A secret, a spa in Bangkok, and two naked Germans... Ridiculusmus plunge into the deepest and darkest of places to bring us a tragicomic exploration of two people trying to make sense of their lives through the tales they tell.

Psappha – Back to (and beyond) The Electric Palace
7.30pm, Thursday 29 October 2009
Programme includes: Phillip Glass's String Quartet No.3, 'Mishima'; Anna Clyne's Fits and Starts and Rapture; and a selection of five, rarely screened, American 'shorts' with live musical accompaniment.

Leopold String Trio
7.30pm, Thursday 5 November 2009
The acclaimed and award-winning Leopold String Trio applies its technical polish and musical insight to Beethoven's G major trio and Bach's Goldberg Variations.

Looking Aside (opening)
6pm, Monday 9 October 2009 (exhibition runs until Friday 11 December)
A unique exhibition from major artists approaching the question of how to document performance practices that are by definition fleeting and transitory including: The SPILL Tarot, Tim Etchells and Hugo Glendinning, Tom Bangbala, Lucy Cash and Goat Island.

A Family Double Bill*
8pm, Monday 9 October 2009
Performers Michael Pinchbeck and Simon Bowes each bring their parents to work for this double-bill of distinctly personal performance, reflecting on family histories, the passing of time and The Sound of Music...

Winterreisse (Winter Journey)
7.30pm, Thursday 12 November 2009
The eloquent bass Andrew Foster-Williams tackles the icy pinnacle of Schubert's songwriting career, presented against a backdrop of stunning film by visual artist Mariele Neudecker.~

Bach Cello Suites 1
7.30pm, Thursday 19 November 2009
Played here in their entirety over two evenings (2nd part 11 March 2010) by Adrian Brendel – one of today's most accomplished and thoughtful young musicians – making a welcome return to Lancaster.

Quarantine – Make Believe*
8pm, Tuesday 24 & Wednesday 25 November 2009
Following the unforgettable Susan & Darren (Nuffield Theatre 2007), Quarantine are back with their latest theatre piece, the dark and joyous Make-believe which explores big ideas through personal histories, performed by an extraordinary cast including two real-life partners and their 2-year-old son.

Nothing Like the Sun – The Gavin Bryars Ensemble
7.30pm, Thursday 26 November 2009
Nothing Like the Sun, weaves together eight of Shakespeare's sonnets on the subjects of time, memory and music. The project also features five sonnet settings by guest composers including Antony Heggarty (Antony and the Johnsons) and Mira Calix (10,000 Maniacs).

Tim Crouch – ENGLAND*
8pm, Friday 27 November 2009
2pm & 8pm, Saturday 28 November 2009
Written to be performed by two guides within an existing art exhibition, and recently presented by the National Theatre in London's Whitechapel Gallery, the triple award-winning ENGLAND travels the trade routes of art and human beings through space and across borders.

New Art Club – Extra Ordinary World*
8pm, Wednesday 2 December 2009
Join Tom and Pete as they attempt to create a whole new dance, in a show crammed with such gems as 'Garden Gnome Sex Attack' and an homage to opposable thumbs. 'If Flight of the Conchords danced rather than sang they'd be a lot like dance duo New Art Club' - The London Paper

BBC Philharmonic – Swan Lake
7.30pm, Thursday 3 December 2009
The dynamic French pianist Jean-Efflam Bavouzet and the BBC Philharmonic under it's high-octane Chief Conductor Gianandrea Noseda come together for this evenings programme which also includes Bartók's punchy First Piano Concerto.