Human Rights Campaigner Gives Public Lecture
11/04/2010 00:00:00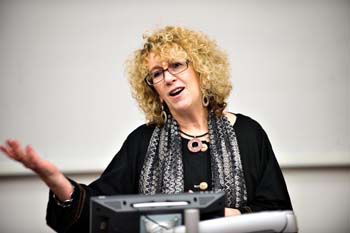 Professor Briskman
An international human rights campaigner has delivered the 2010 Richardson Institute Annual Peace Lecture at Lancaster University.
Award-winning Australian academic Professor Briskman gave a lecture entitled "Banishment at the border: Retreating from human rights", in which she discussed the human rights issues facing refugees and asylum seekers.
Professor Briskman has had a distinguished career researching asylum seekers, refugees and aboriginal rights and has just completed a Visiting Fellowship at the Centre for Refugee Studies at Oxford University.
She is currently the Dr Haruhisa Handa Chair of Human Rights Education at Curtin University in Perth, Australia. In 2008, she won the prestigious Australian Human Rights Commission award for literature for a book she co-authored entitled "Human rights overboard: Seeking asylum in Australia".
Dr Victoria Mason of Lancaster University's Richardson Institute organised the Lecture.
Dr Mason said: "It was tremendous to have Professor Briskman give this year's Peace Lecture. Professor Briskman has devoted her life to social justice issues, and has worked tirelessly for the rights of refugees and asylum seekers. She shared a wealth of knowledge and experience in her lecture, and received a great reaction from the audience."
The Richardson Institute is a peace and conflict research centre located in the Department of Politics, Philosophy and Religion. Previous speakers have included the veteran political campaigner Tony Benn, the former BBC Foreign Affairs Correspondent Martin Bell, journalist Robert Fisk and Australian foreign correspondent Sophie McNeill.