First Year Undergraduate raises over £25,000 for charity
10/02/2001 08:23:51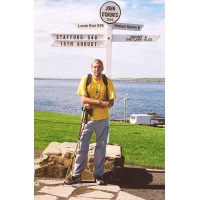 A newly arrived undergraduate student has raised over £25,000 in support of the Dyslexia Institute.
Simon Cheadle originally from Staffordshire has just arrived at the University to undertake a Management Science degree. During his summer break he walked some 940 miles from Land's End to John O'Groats to raise money in aid of the Dyslexia Institute's bursary fund.
Simon received support from the Dyslexia Institute which provides grants to support the tuition of dyslexic people. Simon was a pupil of the Institute for 10 years prior to and during his time at Stafford Grammar School.
The Institute's Chief Executive commented on 'Simons great achievement' and on how 'he was a shining example to other dyslexic people' and also thanked him for 'his hard work and perseverance'.
For further information about the Dyslexia Institute http://www.dyslexia-inst.org.uk