Chinese Consul General visit to campus
03/01/2011 10:33:24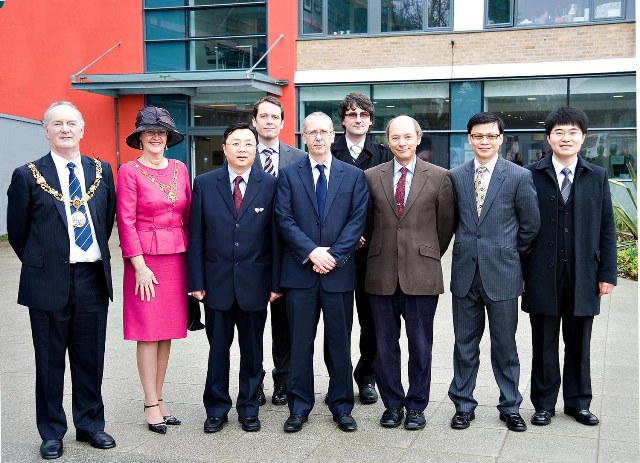 The Chinese Consul General Ni Jian has visited Lancaster University as part of a high-level delegation.
Mr Ni Jian, with Vice Consul Sun Xiaonan and the Consul for Education Wu Zhaosheng , were welcomed by the Pro Vice Chancellor (International) Steve Bradley, the Director of the International Office Stephen Parkin and Professor David Brown, Director of the Lancaster China Management Centre at Lancaster University Management School (LUMS).
Their tour of campus was led by Terry Bray from the International Office with Professor Rachel Cooper of the Lancaster Institute for the Contemporary Arts (LICA). This included guided visits around InfoLab21, LUMS, the Lancaster Environment Centre (LEC )and LICA, accompanied by the Mayor and Mayoress of Lancaster Tony and Christine Wade and the Leader of Lancaster City Council Stuart Langhorn .
Professor David Brown said: "This is a very important visit because it's an opportunity to present the scope and depth of the University's partnerships and activities in China. Students from China are the largest group of international students at Lancaster and two of Consul General Ni's key roles are to support the Chinese student community and to advise officials in China on universities in the north west."

Photo Caption: From left, Mayor and Mayoress of Lancaster, Councillor Tony Wade and Mrs Christine Wade; Mr Ni Jian, Consul-General; Professor Steve Bradley Pro-Vice-Chancellor International, Stephen Parkin, University International Office; Councillor Stuart Langhorn, Leader of the Council; Professor David Brown, Director, Lancaster China Management Centre; Mr Sun Xiaonan, Vice-Consul and Mr Wu Zhaosheng, Consul for Education, Councillor Stuart Langhorn (Leader of the Council)