Waterside development to go ahead
08/04/2009 13:51:28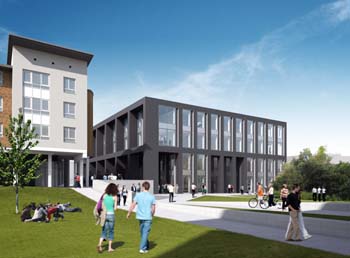 Waterside from George Fox
Lancaster University has been granted planning permission for its new Waterside development between LUMS and Grizedale College. Work on the four storey building will begin after Graduation Week and the building is due to open by autumn next year.
Waterside will provide 4,000 sqm of space in the same architectural style as the new Grizedale College development, with angular grassed and seating areas on George Fox Square.
The ground floor will comprise:
one

'flat-floored' Lecture Theatre

three large and 3 small seminar rooms

Entrance lobby, open plan glazed atrium and breakout/lounge area
The upper floors will provide space for three departments of the Management School. Each floor will provide the following spaces:
18-23 individual academic offices

two shared postgraduate offices

Departmental office and storage space

Large divisible meeting room

Lounge area and staff kitchenette

T The project aims to follow the RIBA Award-winning Postgraduate Statistics Centre at Lancaster, which secured a BREEAM Excellent rating. The building is aiming for this environmental standard with features designed to reduce energy use throughout the heating, ventilation, cooling and lighting systems. The internal exposed concrete soffit will help to reduce internal temperature swings. The concrete roof slab will protect the top floor from excessive solar gain during summer while the design of the south elevation will help to shade the building.
The exterior has been designed to exceed current building regulations thermal standards, reducing heat gains in summer and heat loss in winter. All perimeter offices are naturally ventilated via manually operable vent panels and cooling will not be provided to general areas.

The maximisation of natural light is achieved with large windows to the elevations and a central roof light bringing light into the heart of the plan. Electric lighting is controlled by presence and daylight detectors within individual spaces.
Recycling facilities are located throughout the building and reduction of car use will also be promoted as the landscaping proposals include secure, covered bicycle spaces. A staff shower facility will be provided on each floor.