Talking Birds At The Nuffield Theatre
11/28/2008 11:31:52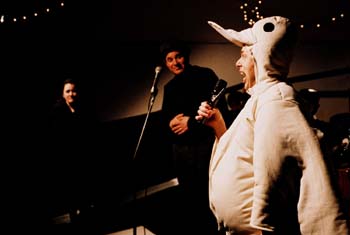 Trevor Goose And His Dark Night Of Lights
TREVOR GOOSE AND HIS DARK NIGHT OF LIGHTS
Talking Birds
8pm Monday 8th & Tuesday 9th December
£12 / £10
IS IT A GIG? IS IT A PANTO?? IS IT A MISJUDGED DANISH CABARET???

It's all three, and this December, pioneering theatre company Talking Birds come to the Nuffield Theatre at Lancaster University with a funny, musical, slightly chaotic Christmas show for those who like their seasonal fare skewed and a little bit heartbreaking

Trevor Goose and his Dark Night of Lights attempts to tell the story of The Little Matchgirl, but internal difficulties with the band - Hans Christian and the Andersons – as well as with a Danish tourism officer and a missing celebrity mean the evening soon turns into a painfully amusing spectacle as the cabaret comes face to face with it's own dark failings.
The music is divine, boasting a fully feathered live band – led by composer Derek Nisbet – and they'll rip off a series of exhilarating numbers throughout the show. The performance also features a small, but crucial role performed by a specially cast local performer, who will play the part of the mother of one of the band members.

www.nuffieldtheatre.com
boxoffice@nuffieldtheatre.com 01524 594151