Top Business School hosts national competition for Chinese entrepreneurs
04/30/2008 16:11:09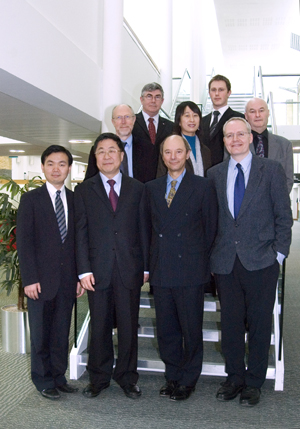 Chinese Entrepreneurship Judging Panel, chair Professor David Brown (front, second right). with Dr Wang Baoqing, Chinese Minister Counsellor for Science and Technology (second left) and competition organiser, Dr Yu Xiong (far left)
Teams of Chinese entrepreneurs competed recently in the semi-final of a 'Dragon's Den' style entrepreneurship competition to boost UK-China relationships at Lancaster University Management School (LUMS). The competition was initially designed to inspire and generate new high-growth businesses and to encourage entrepreneurial talent amongst Chinese students and scholars. This is the third year in which the competition has been held, and the second time that LUMS has hosted the semi-final stage.

From an original field of 179, eight short-listed teams from six British and two Chinese Universities competed for a share of the total prize of around £4000 by presenting their ideas and products along with business plans to the panel of judges. The winners will also receive expert business and enterprise advice from the sponsors to help put their ideas on the road to commercial success.
This China-UK Entrepreneurship Competition was hosted by LUMS and organised by the China Innovation and Development Association (CIDA), the British Society of Chinese Entrepreneurs and by the Lancaster China Management Centre (LCMC). The event was launched by Dr Wang Baoqing, Chinese Minister Counsellor for Science and Technology who spoke eloquently about China's innovation agenda and about the significant commitment by both governments to the fostering of Sino-UK collaborative projects and research.
Dr Yu Xiong, Director of the organising committee, mentioned that the aim of the competition was to encourage people to develop collaborative businesses in China and the UK, and that this was a unique business competition in UK and Europe.
This was the first year in which two of the short-listed plans were submitted by China-based teams, and video conferencing links were successfully set up so that the Judging Panel could engage with them directly. This pilot showed the potential for encouraging even more participation from Chinese teams in future competitions.
The four winners, on the day, were
CHONGQING DAZZLE (TingHua University, China): 'Intense pulsed light system' (IPL) = a beauty treatment using light with high energy and broad wavelength to breakdown pigmentations and boost collagen production restoring a more youthful appearance without downtime and side effects. Target market includes salons, clinics and hospitals around the world;
SEREN ENERGY (University of Swansea): Aim is to build an e-business solution for low carbon technology. Providing solar keymark Chinese solar panels to UK businesses via and e-business solution. There are no solar panel test labs in the UK or Ireland at the moment to give solar panel certification therefore with a solar keymark the Chinese solar panels will have a great advantage in the market;
RADII TECHNOLOGY (UniversityCollege, London): Radio Frequency Identification (RFID) – Radii have developed technology which significantly improves security within this market whilst affording re-programmability – can re-use tags reducing waste on developing more tags. Process of RFID in general should help to reduce paper use;
POWER SILICON TECHNOLOGY (University of Cambridge): a spin-out company from the University. Aim is to produce carbon reduction innovations and energy saving solutions for electrical energy conversions with power semiconductor devices and controls. The lead product is Active Voltage Controller which is a semiconductor device for medium to high voltage applications.
Professor David Brown, Director of the Lancaster China Management Centre, said: "China's economy continues to grow very rapidly, despite the growing global uncertainty. It is therefore more important than ever for Britain to strengthen relationships with Chinese businesses and this competition will undoubtedly foster UK-Chinese business partnerships.
Our LCMC runs research and teaching programmes to develop the skills of Chinese managers, and the School has long-standing collaborations with Chinese universities. We were delighted therefore to be able to collaborate again with Dr Yu Xing, this time on behalf of CIDA and the Entrepreneurship Society, to host this semi-final.
As Chair of the Panel of Judges, I was very impressed with the quality of the plans and the presentations and it has been very difficult to choose the four best plans from the eight presented. The one winner, at the final in King's College London in late June, will indeed be an exceptional project."


The six dragons on the Panel of Judges were Professor David Brown; Mr Vince Cunningham, China Business Adviser, China-Britain Business Council; Mr Richard Barnsley, International Commercial Manager, HSBC, Manchester; Dr Xiangu Sheng, Associate Director, Scott Wilson Environmental Consultancy, Cambridge; Mr Mark Underwood, Managing Director, Weldspares Ltd, Warrington, and Dr Nigel Lockett, Senior Lecturer in Innovation, Brunel University Business School
Organisations supporting the event include the Chinese Embassy, the Chongqing government, LancasterUniversity, the China-Britain Business Council, First Enterprise Business Agency and Oxford Innovation.
Linked web sites:
Xinhua News (English version)
http://rss.xinhuanet.com/newsc/english/2008-04/26/content_8052509.htm