Former Dean Made Life Peer
05/07/2004 10:26:13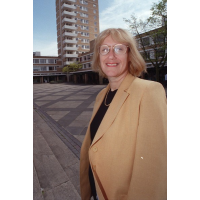 A senior police adviser and former Dean of Lancaster University has been made a life peer.
Dr Ruth Henig, who recently retired as Dean of Arts and Humanities at Lancaster University, is chair of Lancashire Police Authority. She is also chair of the National Association of Police Authorities.
Her work on high-profile advisory groups has included the Home Office Steering group on the Lawrence enquiry recommendations in 1999 and the Street Crime Action Group 2002, which was chaired personally by the Prime Minister.
In 2000 she was awarded a CBE for services to policing.
Following the formal announcement of her appointment last week Dr Henig said: "Naturally I am very excited at the prospect of starting a new career and as I shall be the only peer from North Lancashire, it will be a great opportunity for me to continue to raise local issues such as health, education and safer communities at a national level."
Lancaster University Deputy Vice-Chancellor Professor Nick Abercrombie said: "All members of Lancaster University will be very pleased that Ruth Henig has received a much-deserved life peerage. This honour is, of course, bestowed in recognition of the many and varied contributions to public life that she has made and will make in the future. She also had a distinguished career at the University for 34 years until her retirement in 2002. Widely admired and respected as a teacher and scholar in Modern European History, Dr Henig also served as a very effective Dean of the Faculty of Arts and Humanities from 1997 to 2000. We wish her all good fortune in the future."
Dr Henig is the daughter of Jewish refugees who came to this county from Holland in 1940.
(Photograph by Lancaster and Morecambe Newspapers)