Ethical Management Expert honoured by Lancaster University
07/18/2001 11:29:50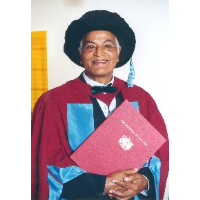 The remarkable career of management expert Satish Kumar was marked with an honorary degree from Lancaster University, where he currently teaches in the Management School.
Satish Kumar is an apostle for the need for a harmonious society that sustains humanity and the natural world in balance. He lived out this conviction in an 8,000-mile pilgrimage from India to America undertaken in poverty.
Settling in Britain, he has become a revered world teacher, editing Resurgence, a journal that relates ecology and spirituality, and directing the Schumacher College, a residential international centre for the study of ecological and spiritual values.
Satish Kumar teaches Ecology and Ethics on the Mphil in Critical Management run by Lancaster University's top-rated Management School. As part of the course, students, who are typically senior professionals in public and private sector organisations, learn about ethical dilemmas that they might face as managers and how to deal with them.
The Mphil in Critical Management gives intellectual frameworks to people who are at the sharp end of responsibility and covers the moral decisions they may have to take.
Satish Kumar received a Doctor of Letters presented by HRH Princess Alexandra at a Ceremony that took place on 10 July.