Graduate wins Business Start-up of the Year Award
01/06/2011 00:00:00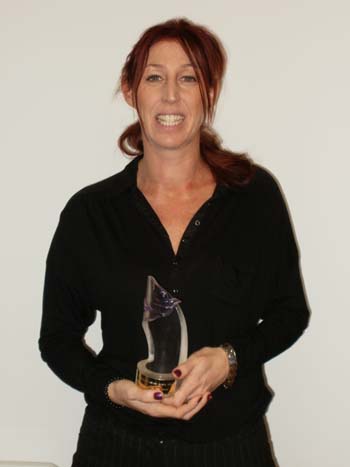 Sarah Goodall with her award
A Lancaster graduate has won the Business Start-up of the Year award at the North West Women in Business Awards.
Sarah Goodall studied social work at Lancaster University's Department of Applied Social Science before becoming a social worker. She set up her training and consultancy firm The Athena Programme in 2007 and the company has since flourished, with six employees and a turnover of around £100,000 a year.
Sarah said she was delighted with her award, which she received at a gala dinner held at Ribby Hall.
"The North West Women in Business Awards are a fantastic way of recognising women who have worked hard to succeed in the business world and they do a great job at encouraging other female entrepreneurs to take the plunge and start their own enterprises."

The Athena Programme, based in Clitheroe in the Ribble Valley, delivers creative training and consultancy services to a variety of statutory, voluntary and private organisations aimed at safeguarding children and vulnerable adults. The company tailors each course to their specific clients to make them safer in their practice.
She said: "Setting up The Athena Programme was a lot of very hard work, but seeing my vision become a success has made it all worthwhile and this award really is the icing on the cake."
Dr Ian Paylor, Head of the Department of Applied Social Science, said: "We are all extremely proud of what Sarah has achieved since her days here as a social work student at Lancaster. We would like to think that her experiences at Lancaster have contributed in some small way to her success in embracing the changing nature of social welfare and dealing with the difficulties inherent in a career in the social care professions. She is an excellent example of someone willing to look outside the perceived narrowness of a career in social work."

www.theathenaprogramme.co.uk